Today was my first day off after four long days in a row. I have to admit I was "bad wife/bad mommy" today…I let the kids wreck the house and watch TV all day so I could fool around on the computer. I finally managed to get us all dressed around 11am and grabbed a comb, brush and spray bottle to do Lilah's hair in braids. They wanted to play with them after I was done, so I just left them there and went back to my cyber-hermiting. A little bit later, one of them made some sort of noise so I went to check on them….and this is what I found:
You guessed it…Casey, soaking wet. I asked Lilah, did you spray Casey? Her simple reply was, "Yes!", as if that was such a silly question mommy! So that "silly question", inspired my scrapbook layout of the day: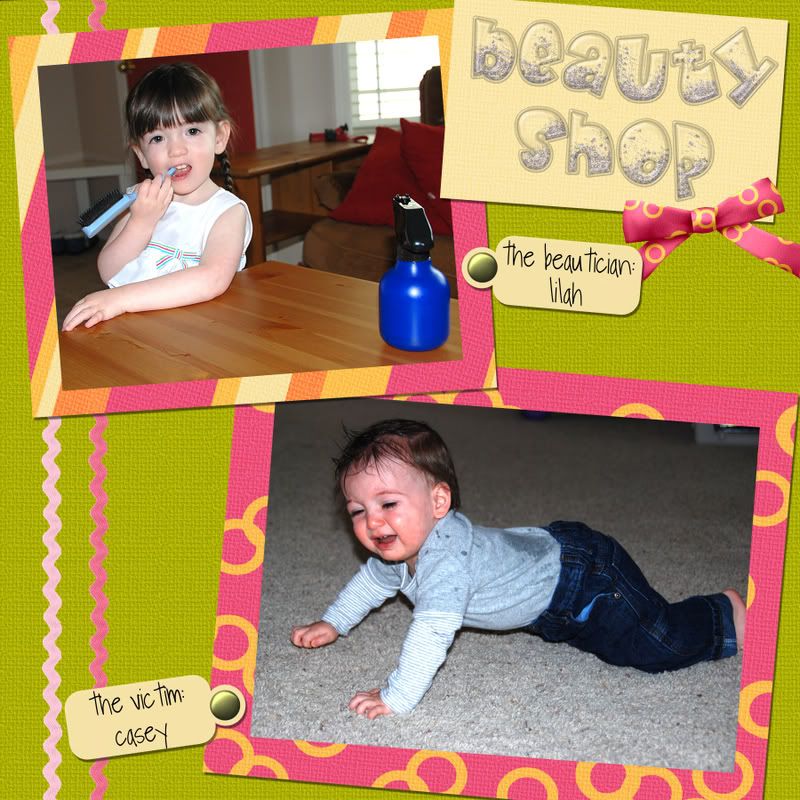 Kit by Jennifer Apodaca, Family Time
Thanks for dropping by!
In the way home from breakfast, Lilah asked if we were going home. I told her no we were going to get mommy a present because it was Mother's Day. She then replied "No, it's my day!"
I sort of feel bad for her because she doesn't quite grasp the concept of Specials days yet and we had 2 of them back to back. Yesterday was Casey's Birthday, and today is Mother's Day.