A trip to the zoo this past weekend with our friends Jen and Alton:
Kit by Tabrizia, Sweet Emotion.
Speaking of Jen and Alton, here they are: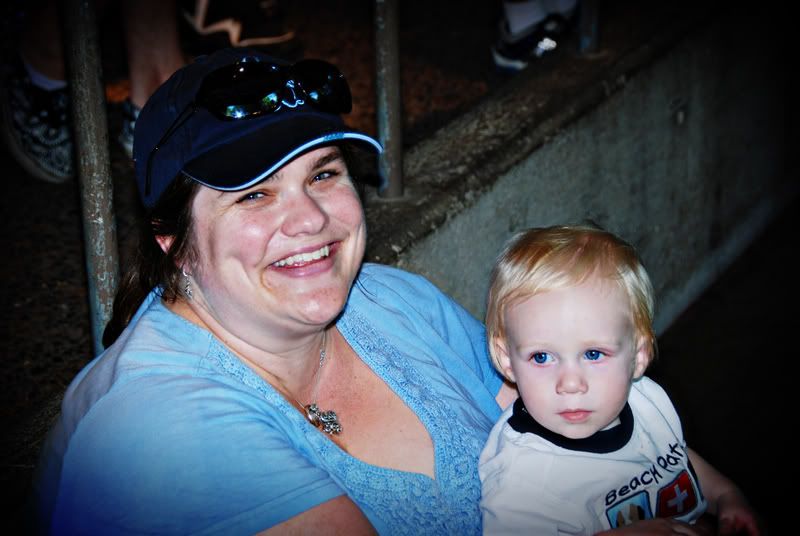 I've been playing with my photoshop actions a lot lately, from Pioneer Woman and Doug Boutwell too, and they make such striking photos! Now the SOOC (straight out of the camera) shots looking boring comparatively!
Here is one that Jen likes to call, "Potato Chip Shangri-La"
Playing with the lighting and the color makes his lovely blue eyes pop even more!
And here is one of my handsome men of course: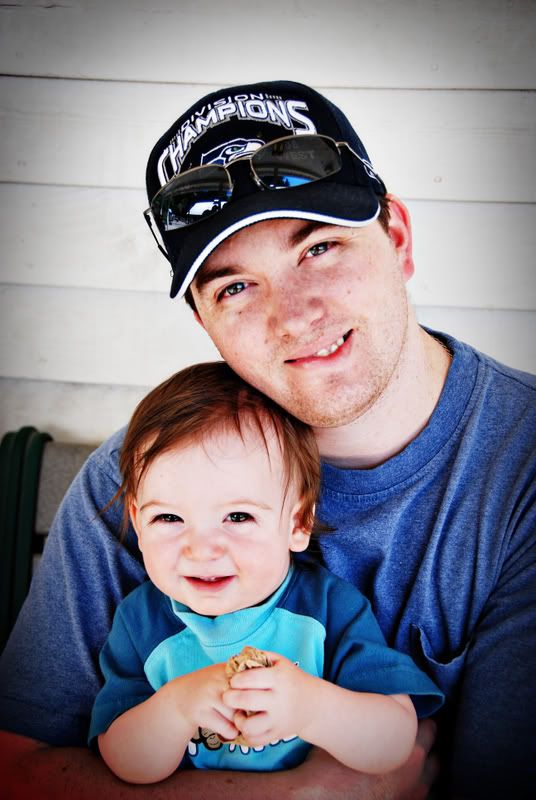 And finally my little princess (well, my dirty, wet, playing in the pool princess anyways!):
Ok, I admit it, I'm addicted to edge burn. I'm sure there is a 12 step program for me somewhere!
Thanks for checking us out!
I managed to get a tiny bit of scrapping time today in between running Lilah to swimming, getting groceries and trying to organize my new bedroom furniture.
Don't you just love pictures of babies sleeping?
Kit is Counting Sheep by Simply Sweet Designs. Love their work, its so adorable!
Here is the word art I created:
You can download it HERE.
Please leave me a comment, here or on 4shared, thanks for looking!
We just noticed this week that Casey is learning to play pretend already just like his sister! He was sitting in his sister's kitchen (as usual) and had a toy plate and spoon in his hands. When we looked over, he was first blowing on his food and then pretending to take a bite!! He is 14 months old and already knows this?!? He amazes me everyday the things he is starting to learn.
He can give kisses and hugs now and can even say Lilah. Of course, it sort of sounds like, "YAH YAAAAH", but I know that is what he is saying!
He is definitely a loud child however. Just today, I was saying, "Wow, that screech that he makes sounds just like a baby pterodactyl!"
Last week Lilah took her very first ballet class. It was one hour every day for a week, no parents allowed. *sniff* My baby! On the last day we got to watch and it was so adorable! Lilah was, of course, the youngest and smallest in her class, but she tried so hard to keep up to the older girls! She was so proud of her passe, arabesque and pointing her toes! Here is a scrap page I made of her first experience with ballet: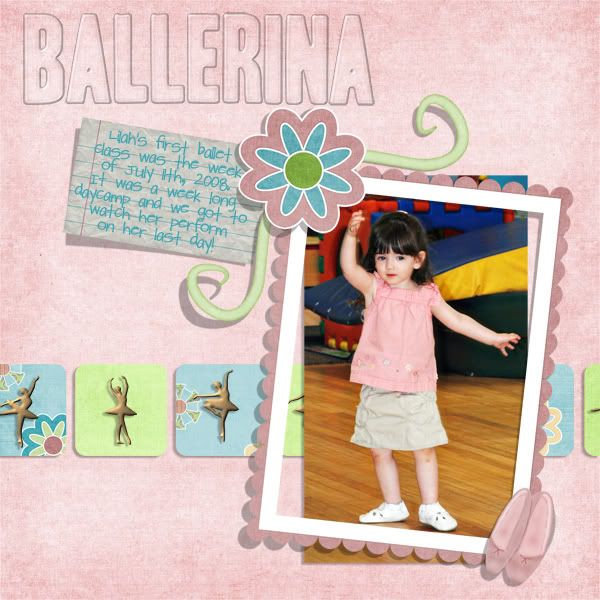 Credits: Kit: Heart song mini by Ellie Lash, Ballerina brads by Kiere's Creations, Paper journal by Lindsay J Designs, Ballet shoes by Mommyscraps, Epoxy alpha by Christina Renee, Template by M Originals.
Now she runs around the house trying to get Casey to "point your toes!" or "passe Casey!". Today Daddy tried to make her jump over the "mud puddles" like her teacher did, and I love to see her beaming smile as she "strikes a pose" after running and jumping over them!
I have been neglectful of my poor little bloggie! When I work 12 hour shifts, there is just no time to do this. And no funny stories of the kids or pictures to scrap
Here is a page of Lilah and her BFF that I did for the Applecart Challenge at Scrap Orchard:
Kit is by Ellie Lash, stamp by Welli Designs.
We are attending her BFF's birthday party tomorrow!
The girls were in dance class together this week and it was so adorable watching them dance ballet! Miss Elizabeth gave them free dance time near the end and Lilah was holding her arm up above her head and just kept spinning in circles like a prima ballerina, with a huge smile on her face! She loved it! I forgot my camera, I will have to post pictures when I get copies from her BFF's dad!
Jennifer from Tony's Mama Designs released a new minkit yesterday at Scraphead, called My Hero:
you can buy it HERE. It is super cute, what a great kit for all kinds of photos…Halloween costumes, daddy/baby photos, etc. Here is what I whipped up with it today: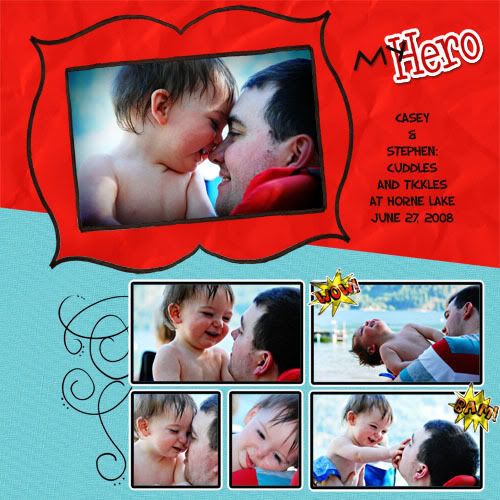 For everyone who leaves me some love and tell me how wonderful Jennifer's designs are, and how great my page is, I will give you a quickpage with this adorable kit!
Happy scrapping!
The Easter pics are done now, with the cermonial coloring of the eggs!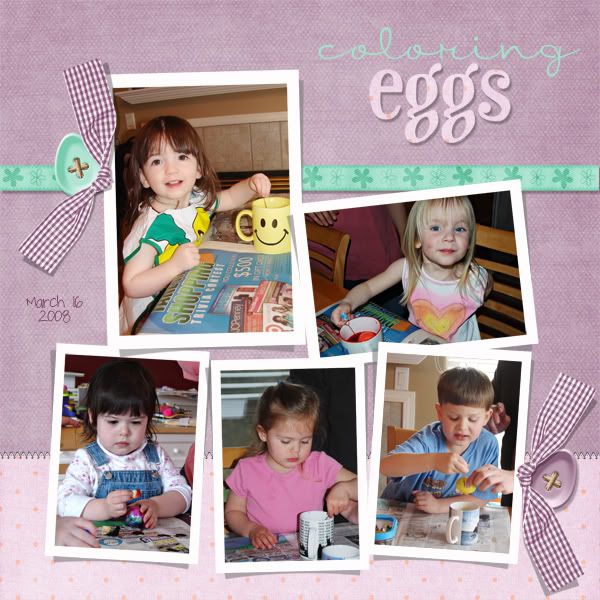 I used the Sunshine Sweets mega freebie kit again, most of it is Amanda Kay's, but the buttons are from Lliella's Designs.
Here is your template:
You can download it HERE. Please leave me a comment if you like my work, and send me your layouts!
And without further adieu, I must get to bed. Happy scrapping!
My project for the morning:
Alpha: 5 Steps to Heaven by NewLifeDreams
A lovely girl hilighted by a lovely kit
And now I must go because the lovely girl is throwing up this morning and her brother is screaming, refusing to nap. Le sigh.
We had no food in the fridge after we got back from our holiday. I sent Stephen to the store for basics like milk but then today I had to make a big shop to get some healthy food in this house.
I was a good girl, I perused the flyers, clipped a few coupons and made a list. Lilah loves to "clip coupons" with me when I do this. On our way out the door to go shopping, Lilah handed Stephen a tiny pile of paper scraps and said, "here Daddy, here's your Poo-Cons".
Oh my. I had trouble walking out the door I was laughing so hard. Could she get any cuter?