Archive for July 17th, 2008
We just noticed this week that Casey is learning to play pretend already just like his sister! He was sitting in his sister's kitchen (as usual) and had a toy plate and spoon in his hands. When we looked over, he was first blowing on his food and then pretending to take a bite!! He is 14 months old and already knows this?!? He amazes me everyday the things he is starting to learn.
He can give kisses and hugs now and can even say Lilah. Of course, it sort of sounds like, "YAH YAAAAH", but I know that is what he is saying!
He is definitely a loud child however. Just today, I was saying, "Wow, that screech that he makes sounds just like a baby pterodactyl!"
Last week Lilah took her very first ballet class. It was one hour every day for a week, no parents allowed. *sniff* My baby! On the last day we got to watch and it was so adorable! Lilah was, of course, the youngest and smallest in her class, but she tried so hard to keep up to the older girls! She was so proud of her passe, arabesque and pointing her toes! Here is a scrap page I made of her first experience with ballet: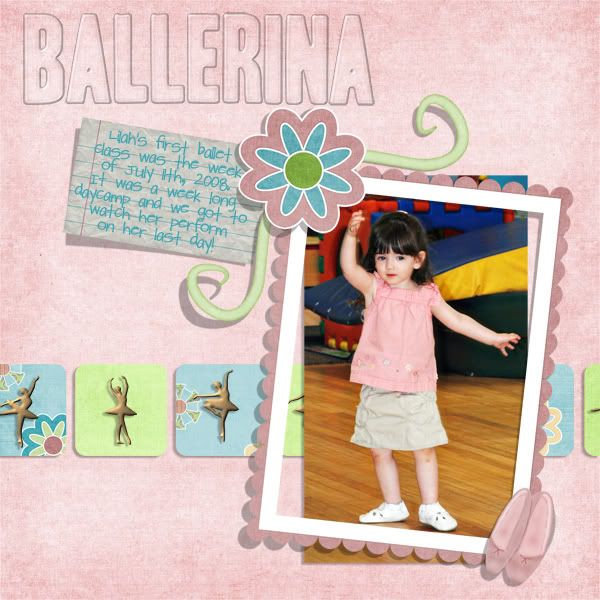 Credits: Kit: Heart song mini by Ellie Lash, Ballerina brads by Kiere's Creations, Paper journal by Lindsay J Designs, Ballet shoes by Mommyscraps, Epoxy alpha by Christina Renee, Template by M Originals.
Now she runs around the house trying to get Casey to "point your toes!" or "passe Casey!". Today Daddy tried to make her jump over the "mud puddles" like her teacher did, and I love to see her beaming smile as she "strikes a pose" after running and jumping over them!