I want to tell you a little story.
I am a self-taught photoshop user. When I first started, I learned from many posts and tutorials on IVillage.com, a community where you can find a message board for almost anything you are interested in.  I practiced my photoshop skills at first on a message board called Signature Showcase and there I came across a talented woman named Jo was also a member of that board.
In December of 2007,  Jo's beautiful son Dante was diagnosed with stage IV Neuroblastoma, an agressive type of cancer. He battled valiantly and with amazing spirit, earning him the nickname " Trooper" for all that he dealt with.
This is the handsome Dante:
I have followed Jo and Dante on their struggle for the past year and sadly, Dante lost his fight on January 6, 2009 and earned his angels wings.
Some talented scrappers have created a kit to benefit Dante's family and to help with the cost of his care for the past year called One Thousand Cranes. Here is a preview:
Isn't it beautiful? This kit really captures the hope and spirit that Dante showed during his battle with the monster that is childhood cancer.  In Jo's own words to describe her reaction when she saw the kit:
"It's absolutely stunning. It's called "1000 Paper Cranes" I looked up the meaning of Origami Cranes and this is what is says: "The bird is strong, graceful and beautiful, it is a symbol of Honor, Loyalty and Peace" Tell me, could that be more perfect?"
The designers have made a freebie available for you too: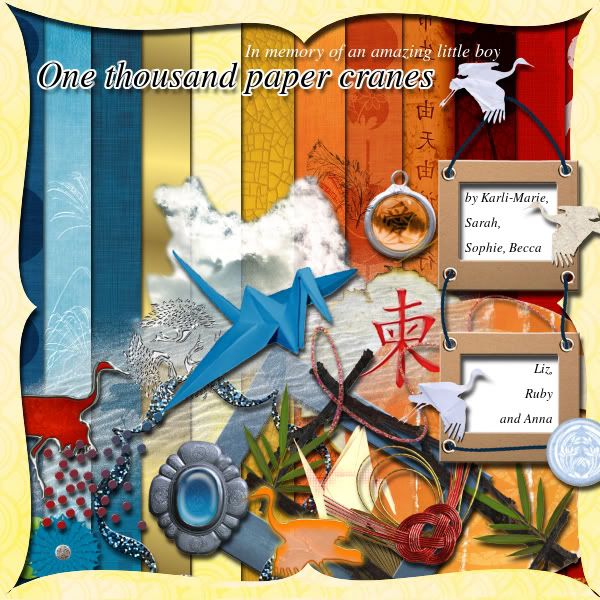 Go ahead and download the freebie sample, it is beautiful, but then make sure you proceed and purchase the full kit. Can you think of a better place to spend your scrapping dollars than on a kit for an angel?
And tonight, please include Dante and his family in your prayers. Thank you.