Archive for January, 2009
A designer that I've been following for a while now, Chanin of Snowflake Beach Designs, just had a Creative Team call and I was lucky enough to be selected! The first kit that she has had us work with is Cora's Best Friend at Go Digital Scrapbooking. It is an adorable kit with a sweet color palette. As soon as I saw it I knew that I wanted to scrap photos of my daughter and her "BFF". Here is the first page that I made with it: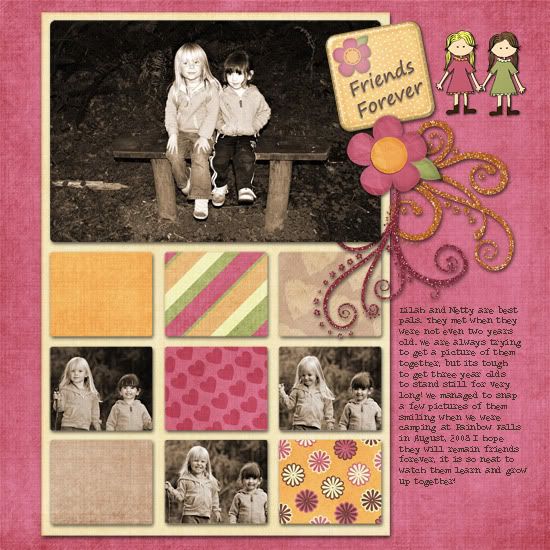 I figured I would make this into a template freebie for you:
You can download it HERE.
Be sure to pop over to GDS and pick up Cora's Best Friend, it is an adorable kit!
I was poking around my various scrapbooking sites today (instead of doing something productive but unpleasant like cleaning) and I came across a comment on DST that I was being featured on Genuine Praise! How great is that!!! This is my page that she featured:
Here are the credits.
This is the first time anyone has ever picked out one of my layouts to showcase and I am so excited! Yay me!
Good thing I have scrapbooking as my stress reliever and creative outlet….there has been a lot of 3 year old attitude and 20 month old screeching in here the past few days!
I have resolved this year to do a Project 365 of photos; take a picture everyday no matter what! I hope to scrap a weekly layout with them so that at the end of the year I will have an amazing documentation of our year as a family.
Yesterday I was snapping a few of the family outside in the snow and I got one of Lilah that I just love:


Today I turned it into this layout which is now my reining favorite:


I hope you like it too! Click HERE for credits.