My first kit for the design challenge, Desire to Inspire at Inspiration Lane, is entitled "Lollipop Guild"! The color palette we were given reminds me of the little munchkin boys of the Lollipop Guild from the Wizard of Oz, so this kit was born!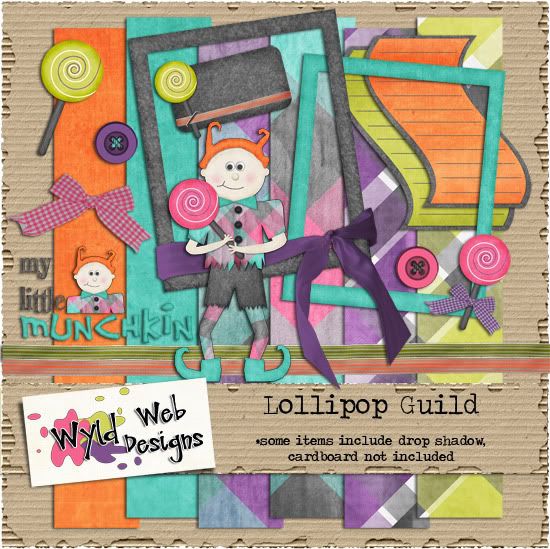 This kit contains:
6 papers
2 frames
2 bows
2 ribbons
3 journaling tags
2 buttons
1 paper munchkin
1 wordart
2 paper lollipops
You can download this freebie:
Papers *SORRY LINK IS EXPIRED*
Elements *SORRY LINK IS EXPIRED*

Please leave a comment if you download, and I love to see a layout if you make one! If you want to download some other terrific FREE kits, check out the gallery at Inspiration Lane!
My awesome friend Belinda made this layout with my kit:
Isn't it adorable??? Go leave her some awesome love, she is SO SUPER FAST with making beautiful layouts and is a very sweet and supportive digi-friend!
If anyone else has made a layout PLEASE send me a link or a copy of your LO, I would love to show it off on the blog!
Week #4 is over at the Brownie Scraps Designer challenge, and I present to you, "Spring into Froggy Love"!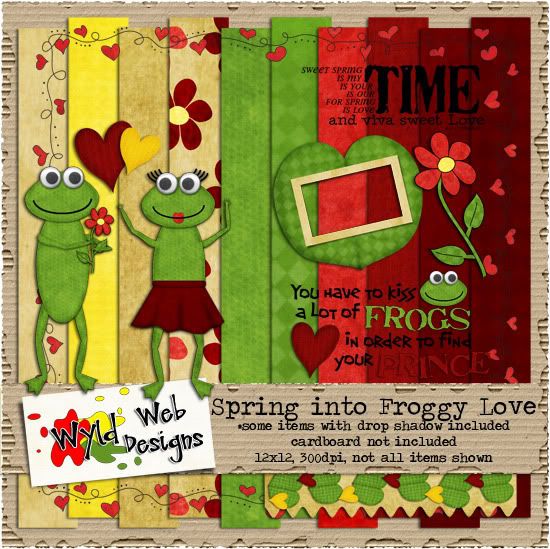 This kit contains, for your scrapping pleasure:
10 textured papers
2 paper frogs
1 paper flower
1 lilypad frame
2 wordarts
2 paper hearts
1 heart doodle page frame
1 heart doodle border
1 edge border
You can download this kit for free here:
*SORRY LINK IS EXPIRED*
Please leave me some love if you download, and I'd LOVE to see a layout you make with my kit! Make sure you go over to Brownie Scraps and upload your layout to win a gift certificate to the store!
Jen's kit is also complete and its adorable, go check out her blog to download "Let's Go Fly a Kite"!
P.S. The links for Family Memories come down tonight, download while you still can!
I am entered into another design contest, and so over ONE HUNDRED other people! I can't tell you which kit is mine yet, it is a blinded judging round, but if you go check out the Design Star Round One gallery, my kit is in there! I'm sure you wouldn't say no to about a hundred coordinated mini kits! You have to be logged in as a member of the forum to see the gallery, but thats easy to do in just a minute or two! Go check it out!