Archive for August 4th, 2009
First the most exciting part….today is my birthday!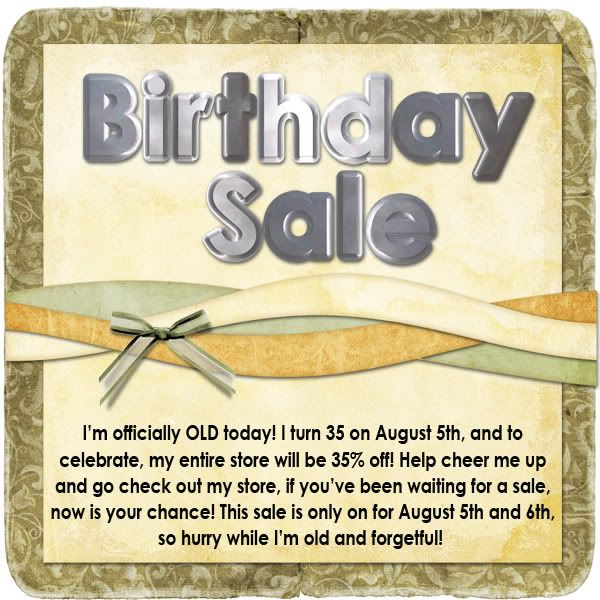 Take advantage of my advancing age and click on the ad to go to my store! Now here is my newest release for today, which you can also get for 35% off in the next two days on my birthday sale!
Kit description:
This kit is perfect for scrapping any photos from your heritage photos to your newborn baby. Designed to help us mark the passing of time, these soft muted colors will let the beauty of your photos shine through. Many of the elements come in both shadowed and non-shadowed versions for your scrapping convenience.
This kit contains:
16 richly textured papers
1 book
2 bows
4 brads
2 buttons
1 clock
1 doily
1 fastener
3 flowers
2 frames
1 journal tag
2 label plates
2 leaves
1 stamped page border
1 page frame
1 paper weave
1 photo corner
1 ribbon
1 scallop mat
1 line of stitches
1 tag
1 piece of tape
Here is a closer look at the papers:
And I have also released a coordinating alpha:
and finally a kit of 12 chrome wordbits to complement your "Time of Remembrance" layouts:
You can save almost 23% off of regular price if you buy the bundle containing all three products:
Hurry and get the bundle for 35% off during my birthday sale, otherwise it will be 25% off for the first week only!
Here is some CT inspiration for you:
Laura

Aren't they wonderful? I love my CT
The fabulous Laura has turned her beautiful page into a freebie quickpage for you too!
Click HERE or on the image to download, and make sure you leave her some love!