Archive for April 15th, 2010
Hello gang!
I have something new out this week, a couple of design tools.
This Photoshop action will help you trim the file sizes of your designs with the click of a button! Removing the empty space around your design elements will greatly reduce your file sizes which allows you to package your kits in less download folders and save time! This action removes all empty space around your flattened PNG image and leaves a 1 pixel border surrounding it to avoid any clipping of your item. This action has been tested in PSE, PS CS2, 3 and 4.
This Photoshop action will resize your images to 600×600 pixels and make them sharp and web-ready. Whether you are uploading kit previews or your own personal layouts, this action will save you time by automatically resizing to the standard size and then sharpening your image to make it pop online! This action has been tested in PSE, PS CS2, 3 and 4.
Both actions are on sale for 25% off this week only!
Jen of Graham Like the Cracker also has a gorgeous kit out this week:
Quentin & Emma
Jen designed this one from the heart; she was inspired by the birth of my youngest son, Quentin, and another Gingersnap member, Marie, who had her daughter Emma just one day apart from us.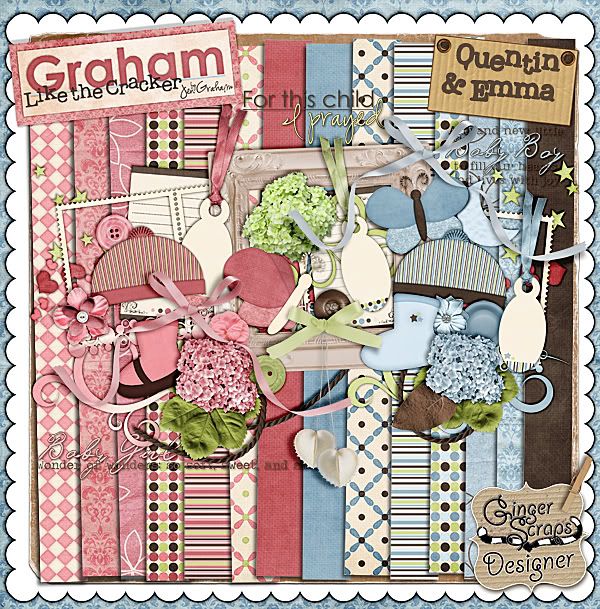 A kit that is both formal and cute, this newborn baby kit will scrap endless layouts. Made for boys and girls, this kit contains 40 elements and 20 papers. The kit is $6.00
No kit of Jen's is complete without some gradient papers, and this time she made a paper pack.
These papers aren't just for babies… these highly textured (but still soft) papers will look great in any layout. Mix them, match them, their possibilities are endless.
Of course they look their best with The kit Quentin and Emma, but you will love them in any layout you use them in. The gradient paper pack is $3.00
Every kit needs and alpha!

This adorable alpha can be used in a wide variety of layouts. Multi-layered and striped, it will be a fantastic addition to any layout.
This alpha comes in blue striped and pink striped in lower and upper case letters. Full alpha sheets and individually cut letters are included to suit your scrapping fancy. The alpha pack is $3.
The bundle contain the kit, the alpha, and the gorgeous gradient papers that complete the Quentin and Emma Collection. The Bundle is $9.00
Make sure you check out Jen's blog for the coordinating freebie and to see the rest of the gorgeous CT layouts!
Here is my layout with this wonderful kit: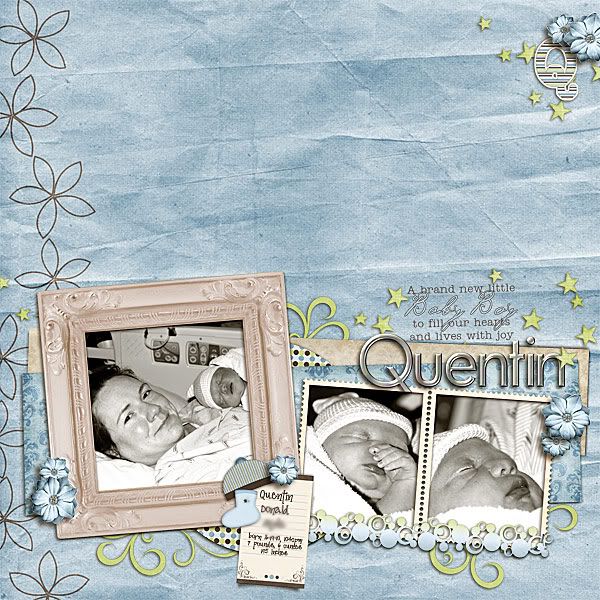 Go check it out!