Archive for September 1st, 2010
Greetings digi lovers! If you are here for the blog train, it is in the next post, but if you read on, you can get another freebie!
Please go to Brownie Scraps and vote for my mini, "Little Black Dress" and help me win Designer Survivor! Here is the mini you can get for free:
Please go to THIS THREAD to check out the entries, and then click HERE to vote for my mini!
The download links for this mini are in the credits in the gallery, click on the image or HERE to go get it! Thanks for your support!
Hello digiland, this is your next stop on the September Mega Blog train! Before I show you my contribution, let me tell you about the Gingerscraps $1.00 Bake Sale, today only, September 1st! There are a TON of wonderful goodies in the store for only $1.00 EACH!!!
Here are my items in the the Bake Sale bin:
Summer is winding down now and I bet you have some gorgeous beach photos to scrap! Sunset on the Beach is the perfect kit to use on those photos of the end of the perfect day at the beach.


__________________________________________________ ______________________
And of course don't forget the glitter styles to match and bring some bling!


__________________________________________________ ______________________
If you need some inspiration to start your mojo from a summer break, this template pack will get it going again! Based on some of my layouts of creative team work, this pack of six templates will get you scrapping again!

Go check it out, every designer at Gingerscraps has something in the Bake Sale bin!
Ok, on to the reason why you are here! You probably arrived here from the fabulous Mad Genius Designs: Madness or Genius? Or Both?
Here is my contribution to the Fall Carnival blog train: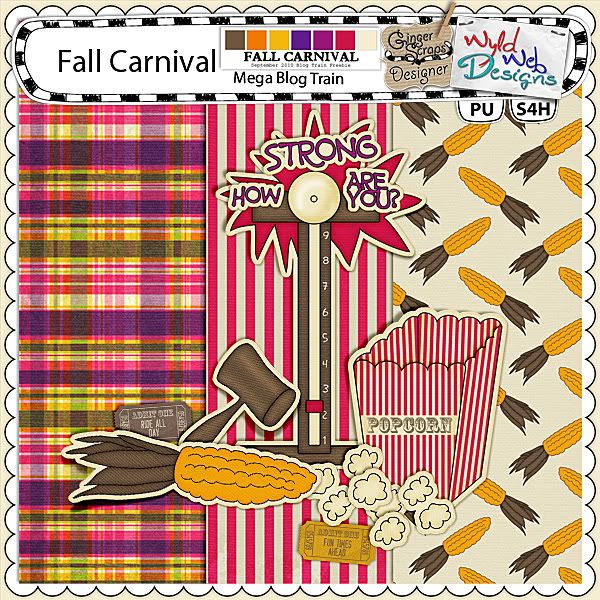 Click HERE or on the image to download, and if you like my work, leave some love! Happy Scrapping!
Your next stop on the mega blog train is: A-liya's Dreams: A-liya's dreams
Please be patient, this blog train is being posted from all over the world in different time zones. If something isn't up yet, it might be up later! If you get lost, visit the Blog Train Blog for the full list!