Archive for October 28th, 2010
Hello Train Riders!!  I'm glad you made it here from the Ginger Scraps blog to trick or treat with me! But no tricks here, only treats!
Here is the slideshow of some of the Goblin Delights Train that we have created for you:

But before I give you my portion of the freebie, I have to tell you about the fun that is happening at Gingerscraps this weekend!
First we have an action packed weekend full of speed scraps, with lots of laughs, scrapping and prizes!
Plus there are specific Halloween challenges for the weekend, including an avatar challenge to win a $10 coupon to my store, and a costume contest to win a $50 Visa gift card! That's cold hard cash baby!
Ok, and now on to your goodies! This is what I have created for you!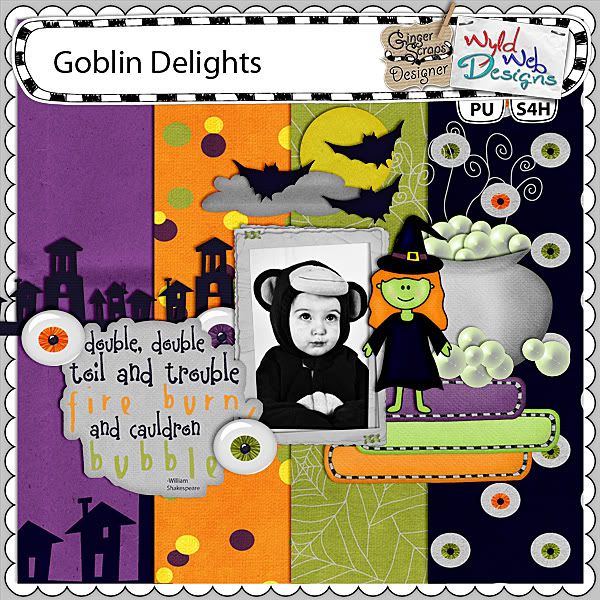 *sorry, download link has expired – you can find this for sale in my store at Gingerscraps!*
The next stop on the Goblin Delights Gingerscraps blog train is Barbara's blog, one of our fabulous site creative team members. Don't forget, if you get lost (or scared from the spookiness!) you can always find the whole blog train list on the Gingerscraps blog!
Please make sure you download these freebies Halloween weekend because these links all expire at midnight on October 31st! After that, they will only be available in the Gingerscraps store.
Before you go visit our next haunted stop on our blog train, I want to remind you to visit Gingerscraps on November 1st for our $1.00 Bake Sale! Every designer will have some products available for this amazing low price for 24 hours only! Plus, don't forget that if you spend at least $10 in the Gingerscraps store, you get this month's Gingerscraps collab, Good Morning, for only $1!!!
Happy haunting everyone!