If you are here from Shel Belle Scraps on the Mega Blog Train, you are in the right place! Your freebie is at the bottom, but hang on and let me tell you some stuff first!
Did you miss my Grab Bag when it was FREE with purchase in March? I have unpacked the goodies and they are all available separately for purchase!
First is the colorful little spring mini kit, Spring is Loverly:

And don't forget the coordinating Cardstock Pack in my store!
Next is the Sponged Alpha, good for giving any layout the hand-made look:

And to add a touch of class to your page, I have these Embossed Frames:

And finally there is a 4th volume of my Rockin' the Layouts series, Block it:

If you missed them in March, make sure you pick them up today, because they are only $1 each in our monthly Bake Sale!!! Yes, for 24 hours only, each of these is only $1! Tomorrow it will cost you over $10 for all four of these products!
In addition to the amazing deals in our monthly Bake Sale, Gingerscraps has a new freebie feature, The Welcome Wagon! Starting this week, every week you will find a new FREE minikit in our forums, only for registered Gingerscraps members!
Ok phew, that was a lot, and I think I forgot some stuff, but I'm out of energy! Here is your blog train freebie! Sorry it is a little smaller than usual, but my vision kind of went on me in the middle of designing it…..and its hard to do when you can't see!! In fact, I hope that my lil' ninja's eyes are straight, I really can't tell right now! LOL!! I also went with the ninja theme versus pirates….I am kind of pirate-d out at the moment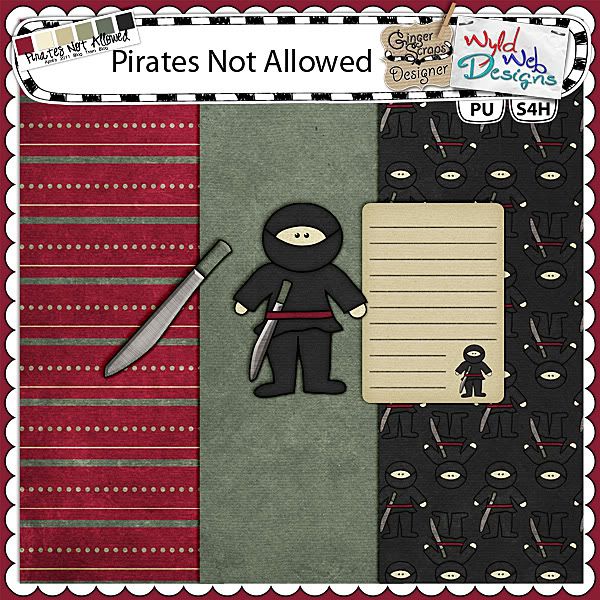 Click HERE or on the image to download your freebie, and if you like my work, please leave me some love! Thanks for stopping by, and make sure you visit the next stop on your train, Bonnie Blou Designs!
edited: Thank you to JHawk who let me know that I am a total forehead smack, I apparently put the PSD file of my preview in the zip! So sorry for the download, I'm fixing it right now!
P.S. Don't forget that if you get lost, you can always visit the Mega Blog Train blog for the entire list!
34 Responses to "Kit releases GALORE, Dollar deals, and Mega Blog Train freebie!!"