Archive for February 1st, 2012
Hey there digi lovers! A house full of sick kids and a crazy busy job kind of takes a toll on my computer time, I feel like I've hardly been around lately! I've also been working really hard on losing weight, and my hard work is paying off – 12lb so far! Now I just need to get the exercise piece of weight loss going….its hard to be motivated in the cold rainy season!
I have a brand new Valentine-themed kit for you today, inspired by the adorable picture of my daughter with our dog, Jackson, pictured in the preview:
And yes, she is sitting on him. LOL! Poor puppy, he is the most patient thing in the world. Ok, at least with our kids – with us he's a grumpy old man and grumbles at us when we tell him to get off the couch!
I also have a set of coordinating papers:
These are part of Gingerscraps February Buffet – Smorgasbord! It has been one full year since Gingerscraps starting doing their monthly buffets, and to celebrate, the designers have gone back through the past year of color schemes and themes, and added to our collections with anything we might not have had a chance to make back then! I never got a chance to do last February's theme with these lovely pink colors, so this was my contribution! So these two packs coordinate with everything else in the February Chocolate Kisses Buffet! Only $1 for the first five days of the month!
Also to celebrate, Gingerscraps is putting every single previous buffet on sale for $1 too!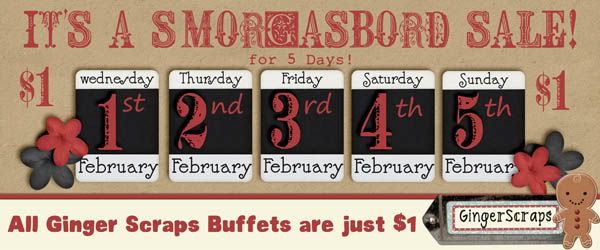 Here are some of my previous buffet contributions, only $1 right now!
All of these, only $1 right now!
Happy scrapping and thanks for looking!