Archive for the 'Creative Team' Category
I am having a call!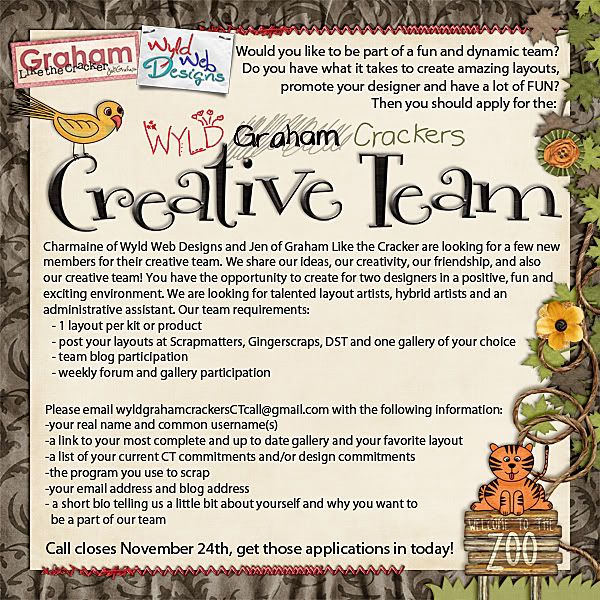 Charmaine of Wyld Web Designs and Jen of Graham Like the Cracker are looking for a few new
members for their creative team. We share our ideas, our creativity, our friendship, and also
our creative team! You have the opportunity to create for two designers in a positive, fun and
exciting environment. We are looking for talented layout artists, hybrid artists and an
administrative assistant. Our team requirements:
- 1 layout per kit or product
- post your layouts at Scrapmatters, Gingerscraps, DST and one gallery of your choice
- team blog participation
- weekly forum and gallery participation
Please email wyldgrahamcrackersCTcall –at– gmail –dot– com with the following information:
-your real name and common username(s)
-a link to your most complete and up to date gallery and your favorite layout
-a list of your current CT commitments and/or design commitments
-the program you use to scrap
-your email address and blog address
- a short bio telling us a little bit about yourself and why you want to be a part of our team
Call closes November 24th, get those applications in today!
Happy Friday everyone! I have a special treat for you this week, a collaboration with the fabulous Teri of Piccolina Designs! We met during this summer's Designer Survivor competition and she was a treat to work with!
We loved the idea of a zoo themed kit, so "Welcome to the Zoo" was born!


This kit is full of fun colors and fun animal doodles.  There are 25 papers in this kit. There are 2 different sets of solid papers (total of 12 papers) and 13 patterned papers, including polka dots, stripes and animal prints.  The kit has 66 fabulous elements to compliment your layouts.  A few of the included elements are 9 different styles of ribbons and stitches, 4 frames, some hardware pieces, a bead scatter, a few buttons, a cage and fence to keep the animals in, a fence overlay and 4 pieces of wordart.  We have also included some nature doodles (flowers, leaves, vines, and a tree).   But what would a zoo be without the animals?!  This kit has lions, tigers, and bears!!!  Oh my!  Not to mention monkeys, a hippo, a giraffe, a bird, a panda, an elephant, a zebra and a rhino. This kit also includes a fun alpha + numbers to use in recording the fun you have at the zoo.
My creative team had lots of fun with this kit, here are a few to inspire you!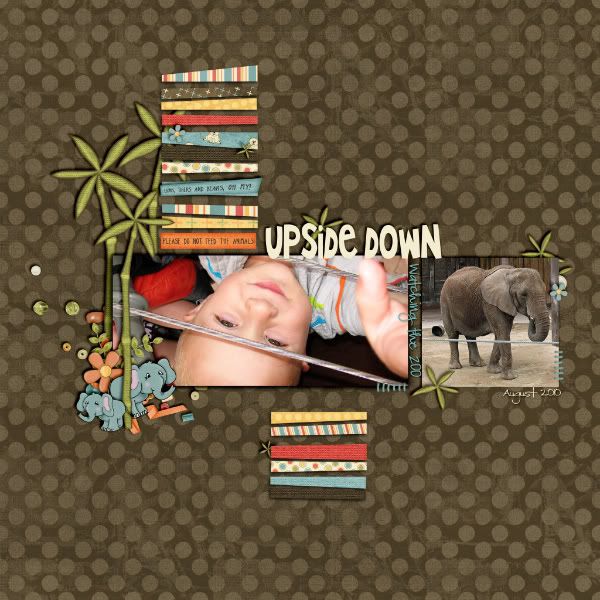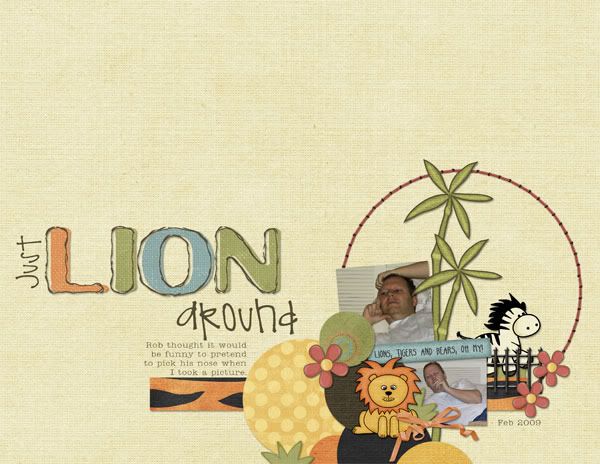 Welcome to the Zoo is 25% off this weekend only!
Also, don't forget that the Gingerscraps Halloween Bash is on all weekend long!
Happy Halloween, and I hope to see you in the forums!

We do not advocate Piracy but we love our pirates! I got the chance to collaborate with two awesome Ginger Scrap Designers MandyMade and Pretty in Green and we came up with this Awesome Kit! Perfect for sailing the high seas, battling pirates and searching for buried treasure! Do you long for adventure? Are you a captain of your own ship? Have you ever been clapped in irons or made to walk the plank? Or maybe you're like me and have found yourself besieged by Scallywags and Buccaneers? This kit is sure to have everything you need to scrap your adventures what ever they may be!
Included in this kit are 84 elements and 38 papers!
You may want to count your Doubloons and check out the 'Say No To Piracy' Bundle!! It will make creating that page of your favorite Wee Lass a breeze!! This kit will make the perfect pirate layout, but can also make adorable Bath tub, Beach, Fairs, Vacations, and Halloween layouts too!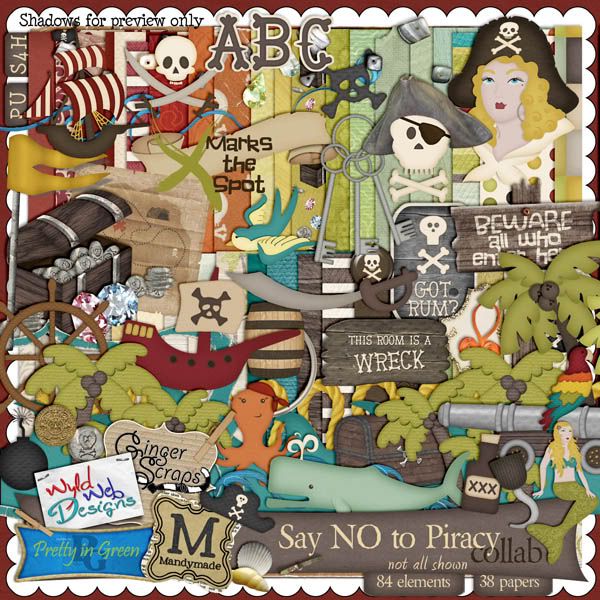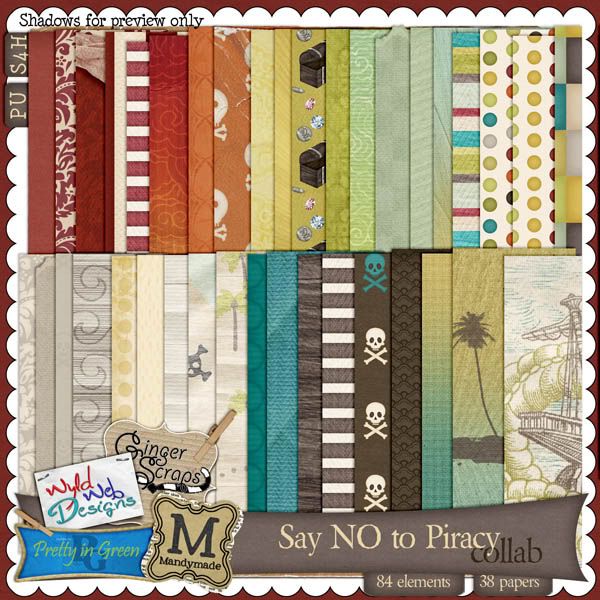 The bundle is a 44% savings!! A $18 value for only $10!!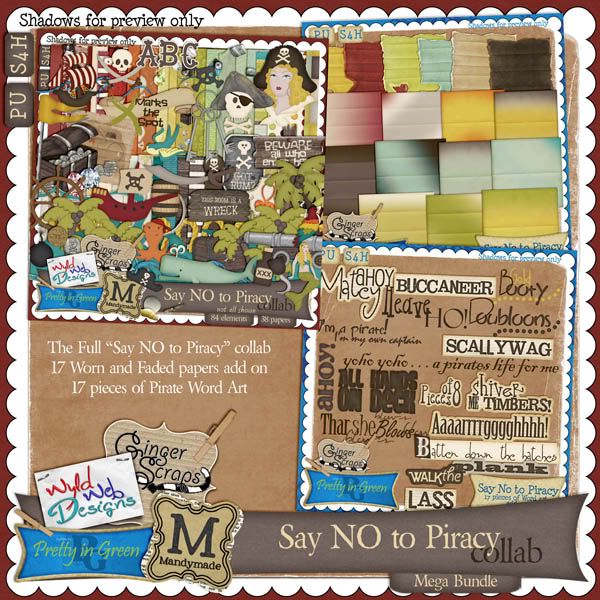 Here's a closer look at the fabulous wordart and paper pack add-ons that are part of the bundle, also sold separately:
*FREE WITH PURCHASE – THIS WEEK ONLY!!**
Bonus Borders and Glitter styles are free with your purchase, this week only! You don't need to do anything, they are included in the downloads with your purchase. Get them this week, next week they will only available as a separate purchase!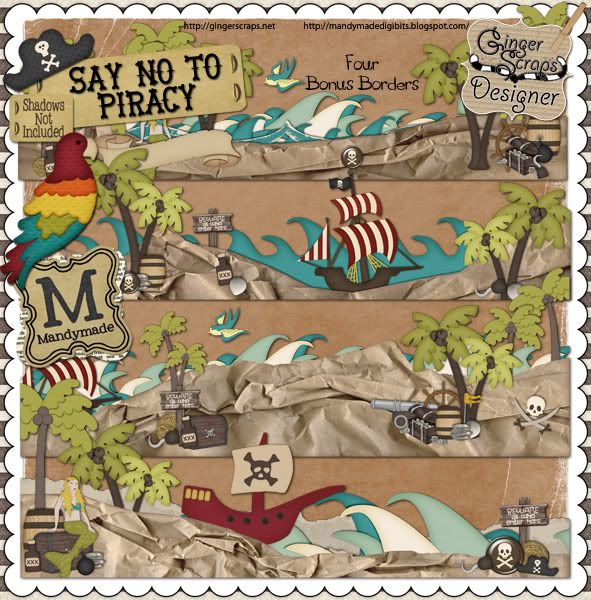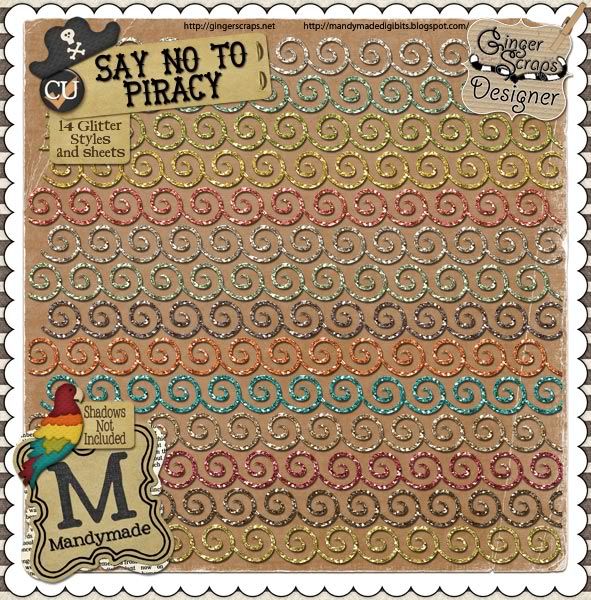 Some CT inspiration: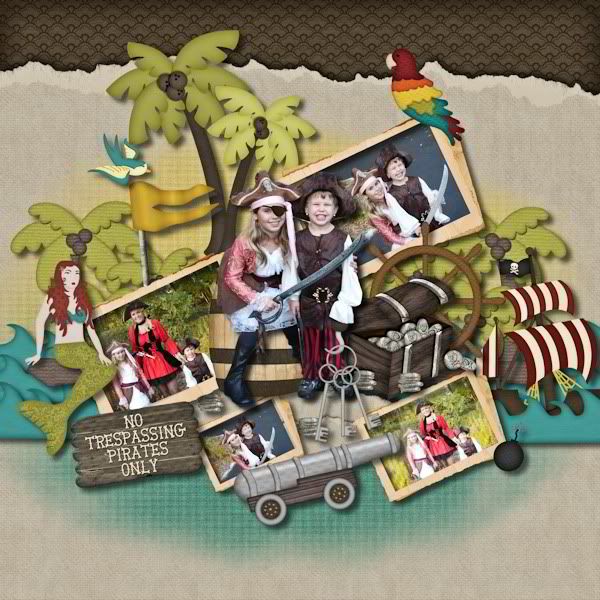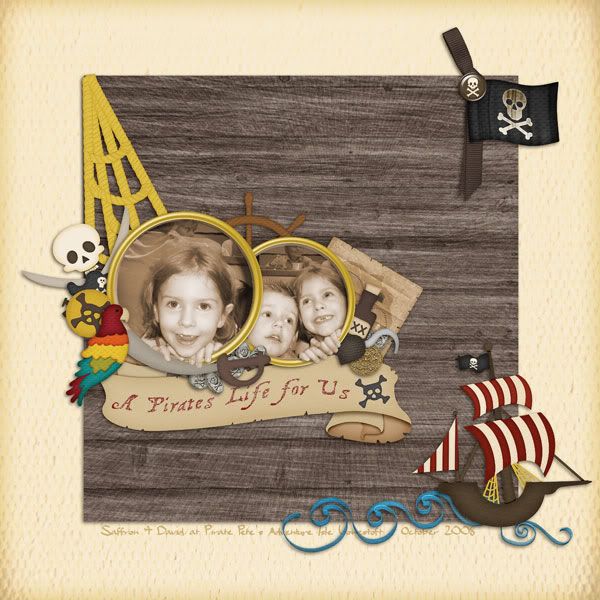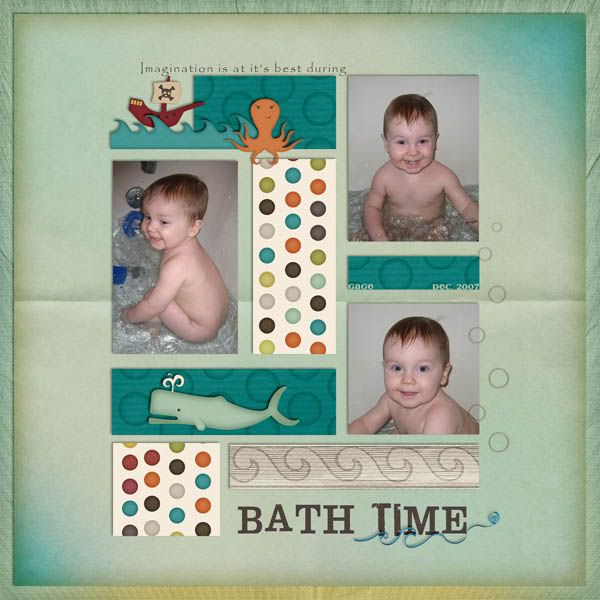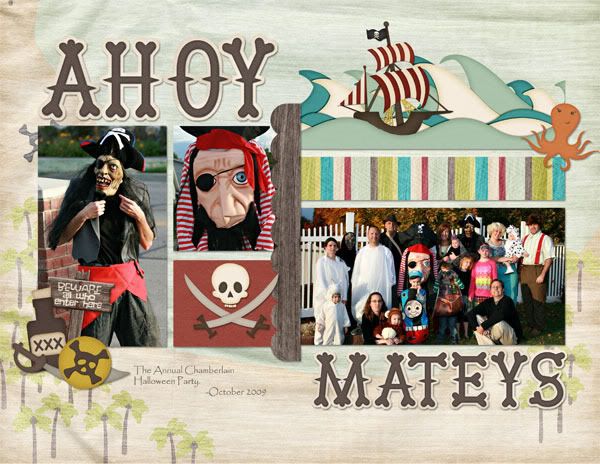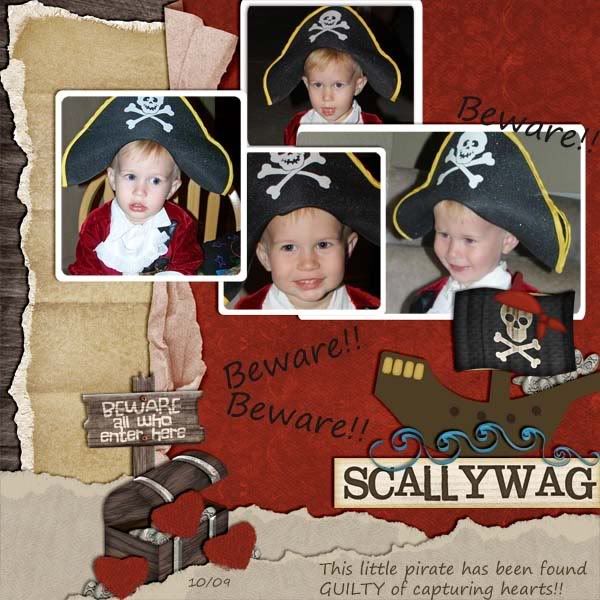 _________________________________________________
Here is a mini that I added to the store to contribute to Gingerscraps' Project 365/ Project 52! Keep it going by scrapping those summertime photos!
This mini pack contains 12 elements that are perfect for hilighting those photos of splashing, swimming and water fights!
Get them this week while they are 25% off! Happy scrapping and thanks for looking!
I almost forgot to come here and post this today! It's Fresh Fruit Friday at the Orchard, and look at the adorable wordart packs that Bethany has for you this week! I included the layouts I made this week, too good not to use these ones!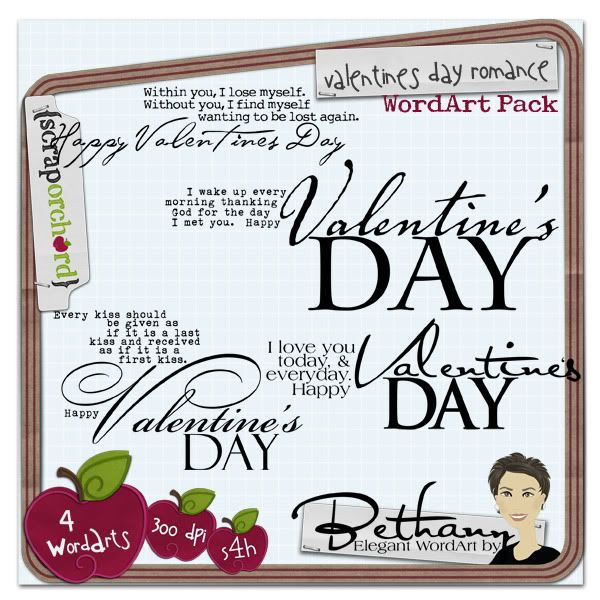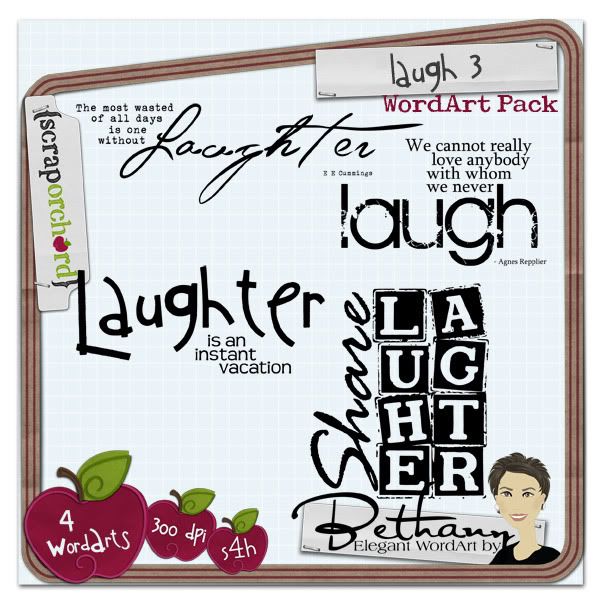 Layout by Charmaine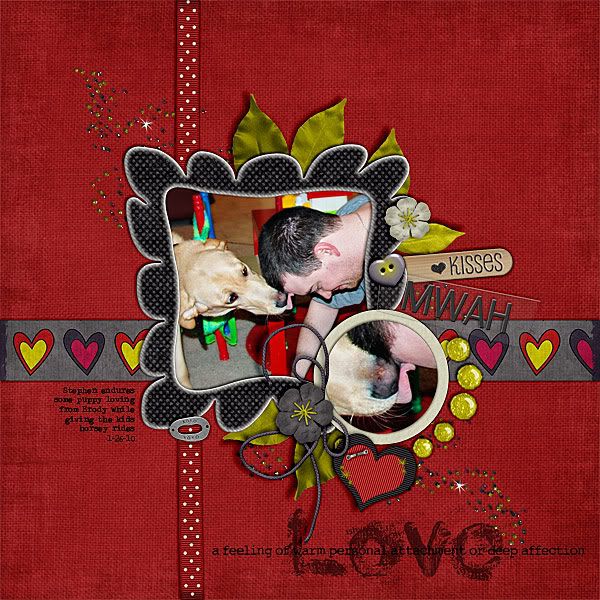 Layout by Charmaine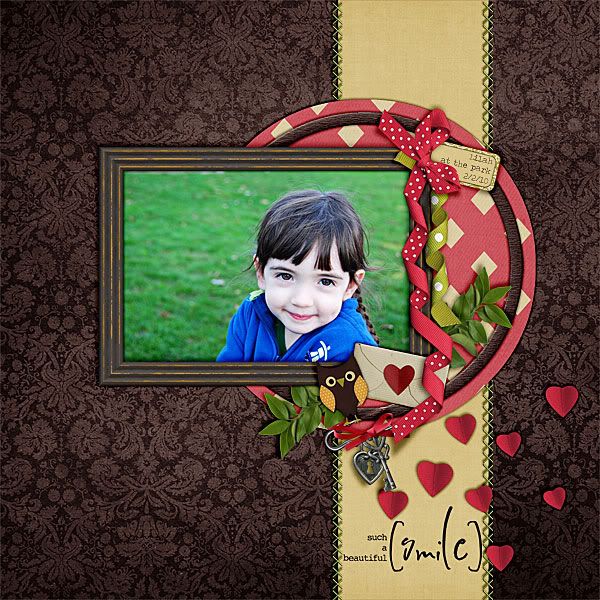 So get on over to the Orchard and pick up her newest packs, 20% off this week only!
And P.S. NOBODY entered to win a free wordart pack from Bethany! I guess I'll have to try harder next time folks!
Grab a coffee, I have LOTS to tell you about today!!!
First up is one of the brand new designers at Gingerscraps, Daybreak Scraps. One of her first releases is this adorable kit, Denim Cutie:
Isn't it just the cutest? When I saw those little dollies, it inspired me to scrap these older photos my my daughter that I just LOVE: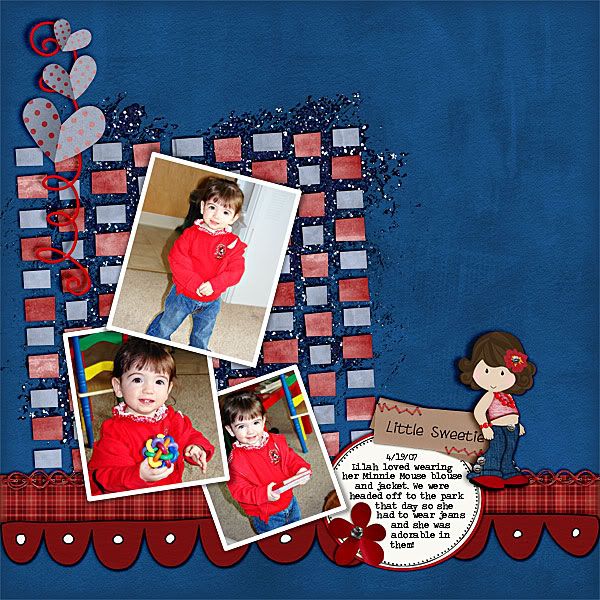 Click image for full credits.
Denim Cutie is on sale this week only for 20% off. And since you're going to be picking that up, you can get the Gingerbread Ladies February Mega Collab Mystery Grab Bag for only $1.00 with a $4.00 purchase!!!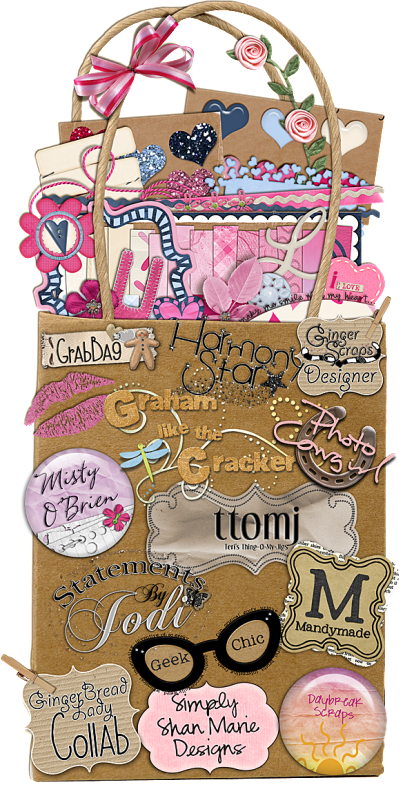 This kit is huge and very beautiful! Pick up this steal of a deal before the price goes up!
Don't forget, the Gingerscraps party is still going on, check out the forum for daily games and events!
Next up we have Litabells Designs who recently opened up at Scrapable! She released the gorgeous Hoo Loves Ya? this week:
Hoo Loves Ya? is on sale for 25% off right now!
I made this layout yesterday that I am in LOVE with…..isn't my daughter just gorgeous?? I know I'm biased, but still, I just had to say it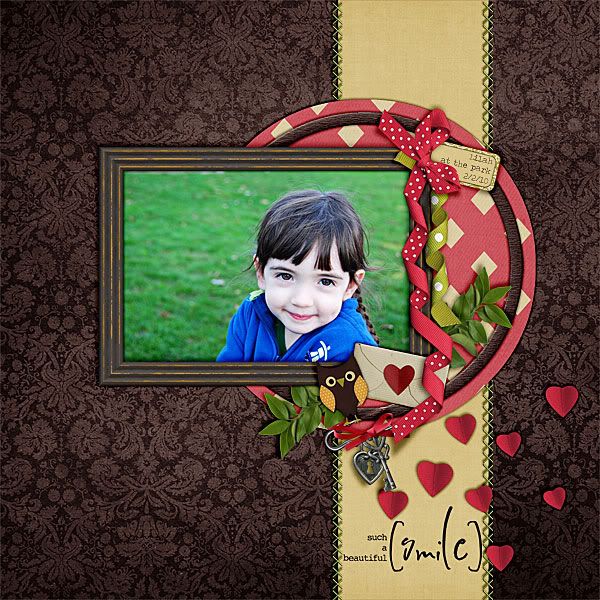 Image linked for full credits. It also feature a lovely and sweet wordart being released this Friday by Elegant Wordart by Bethany. A little "sneak peek" for you!
Alrighty, next up we have one from ValerieN Designs, Sour Kisses, available at Gotta Pixel!
Sour Kisses is on sale for 20% off right now!!! There is also two coordinating alphas and a glitter pack to match, all also on sale!
This is the layout I made with this lovely kit: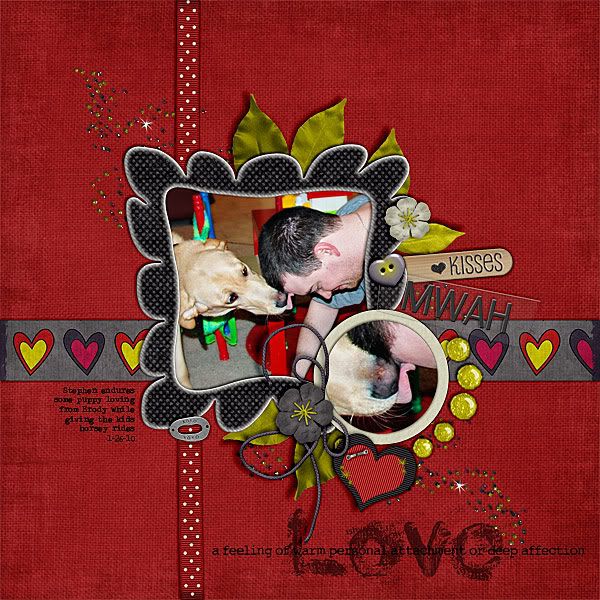 Click image for full credits. It provides ANOTHER sneak peek of Elegant Wordart by Bethany wordart this week! Man, you guys are LUCKY this week! Available Friday, Feb 5th at Scrap Orchard.
Ok last but certainly NOT LEAST! Little Red Scraps and Altered Sea collaborated to produce this lovely and elegant kit called "Mommyhood" this week.
This kit is part of their Grand Opening at Digiscraps Drive-In this week! They are having a big sale to celebrate:
If you spend at least $3.00 between the four stores (the three designers that make up Red Genius Enterprises, plus their RGE store) then you get a savings of 25%! Plus if you spend only  $1.99, you get the free grab bag below!
Here is the layout I made with Mommyhood this week: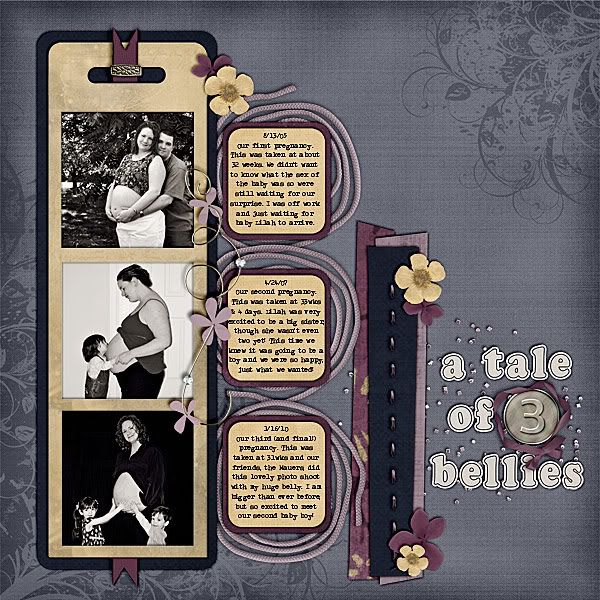 And guess what??? I made you wait THIS LONG for a freebie! Click on my layout of "A Tale of 3 Bellies" above to download a quickpage! (Bellies not included hehe)
Click HERE or on the image to download!!
Know what ELSE I'm gonna do??? Since you got a sneak peek at Elegant Wordart by Bethany 's releases for this week, I'm going to give away to one lucky reader a coupon for a FREE wordart pack from her store!!!!! And come on, who doesn't love some Bethany goodies?? Just leave a comment on this post and I will be back FRIDAY with the winner when I post Bethany's new releases for the week!
Ok, blog makeover done! Thank you to my hubby (who fixed what I managed to bugger up) and to Flergs, who makes gorgeous blogwear
So my friend Lita of Litabells Designs put out out a couple gorgeous things this week:
Cool templates aren't they? Here is the layout I did, also with her Pucker Up kit:
And her GORGEOUS kit which is a collab with Secret Garden, Heartfelt:
I did this layout: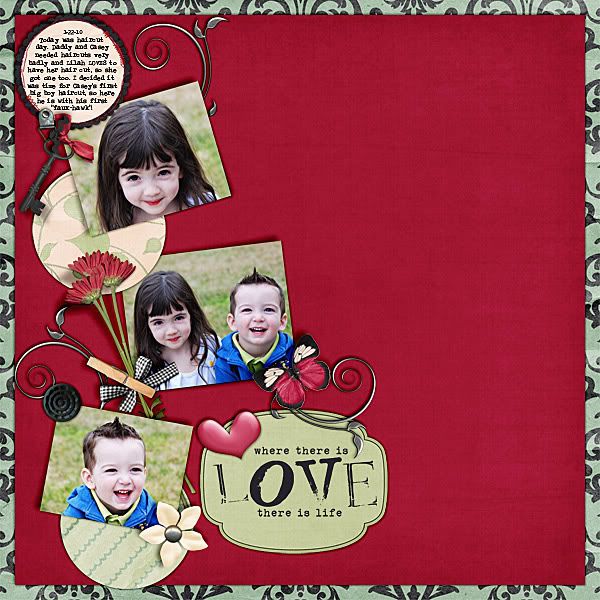 This layout also features wordart from Bethany's next release, available Feb 5th at Scrap Orchard!
Lita's kit even inspired me to make a HYBRID project, can you believe it?? We all know I am NOT a hybrid gal LOL!
It's a little gift for Lilah's teachers for Valentine's day, also using Heather Roselli's treat templates. I loved how they turned out.
Head over to Lita's Sunshine Studio store and snag them, 30% off this weekend only!
Do you remember Graham Like the Cracker's Little Sighs and Little Princess Sighs? Well she has re-released them at Sunshine Studio, and they are on sale this weekend! She has also created a bundle where you can get them both at a steal!
Here was my layout with Little Princess Sighs: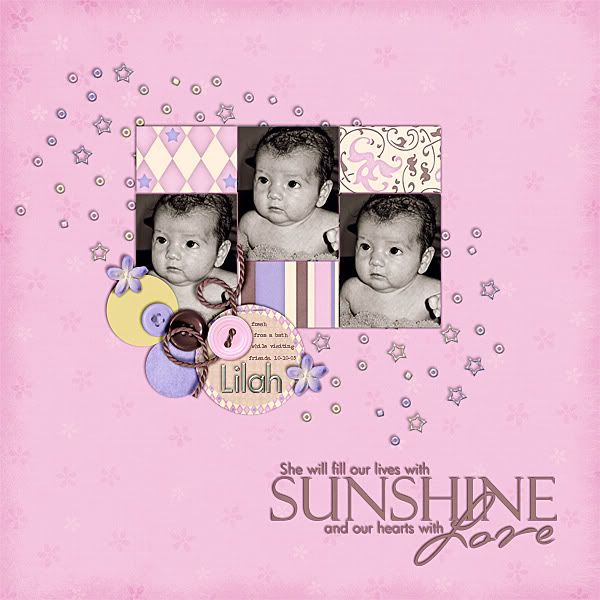 So go check out Graham Like the Cracker's store at Sunshine Studio this weekend, the re-releases are 30% off this weekend only!
This weeks kit almost designed itself! When I found this lovely soft color palette the kit came together in a very short time!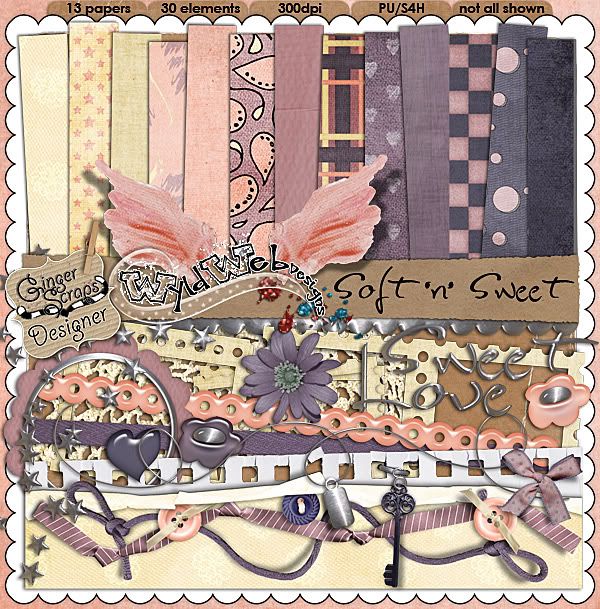 This delicate color palette is perfect for those tender moments we capture of our loved ones. Full of brushed metal and acrylic elements, this Soft and Sweet kit will be perfect for any occasion.  Some elements come in both shadowed and non-shadowed versions for your scrapping convenience.
This kit contains:
13 papers, 5 plain, 8 patterned
2 scallop borders
1 bow
2 buttons
1 acrylic flower in 2 colors
1 flower
4 frames
1 acrylic heart
1 key, with and without metal fastener
1 half doily
1 page border cluster
2 ribbons
1 staple, with and without fastener
1 string
1 star cluster
1 tag
2 wordart
1 pair of wings
1 wire
I also have a coordinating alpha and glitter styles: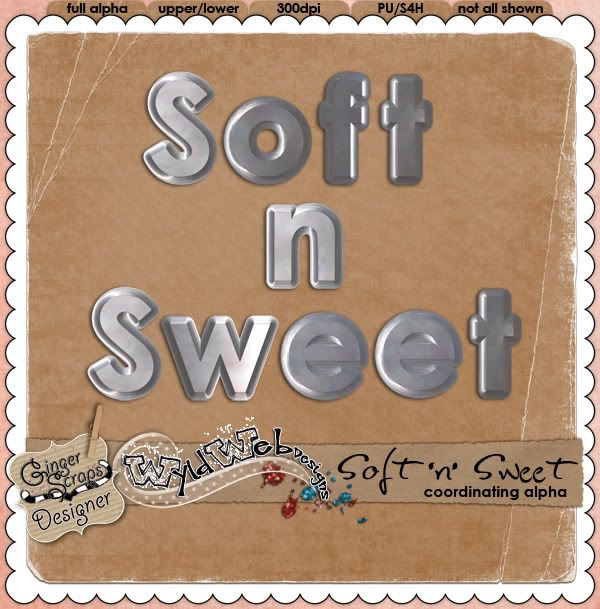 Or you could save money and buy the WHOLE BUNDLE for one low price! PLUS the bundle is on sale for a further 20% off this week only!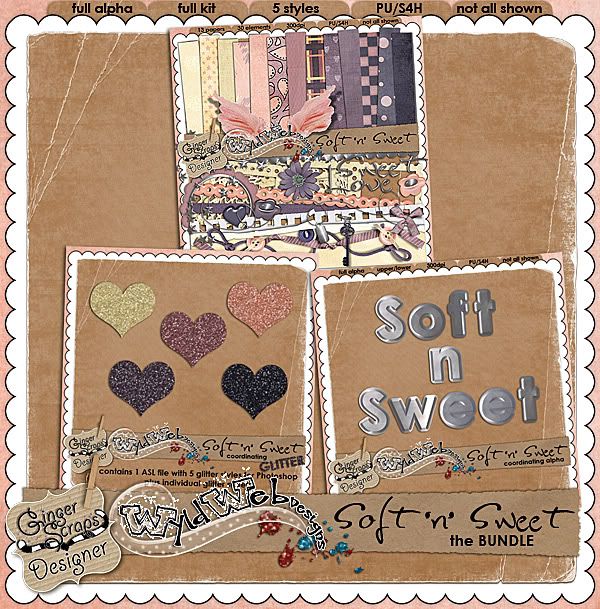 Here is what my CT did with this kit this week, they did an awesome job!
Jenn: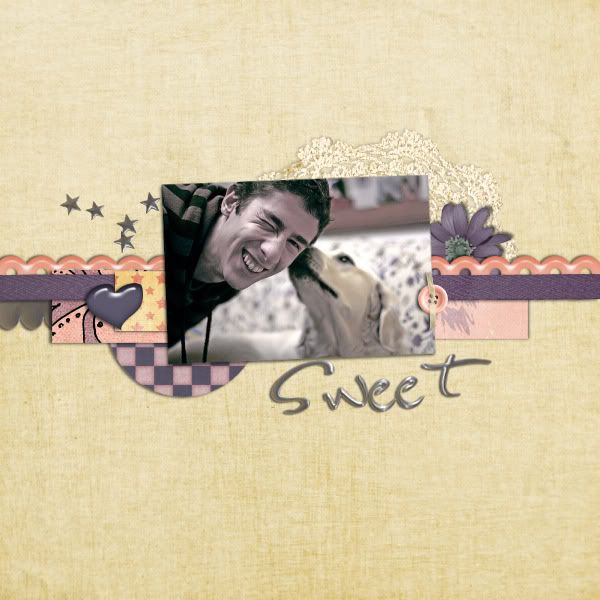 Laura: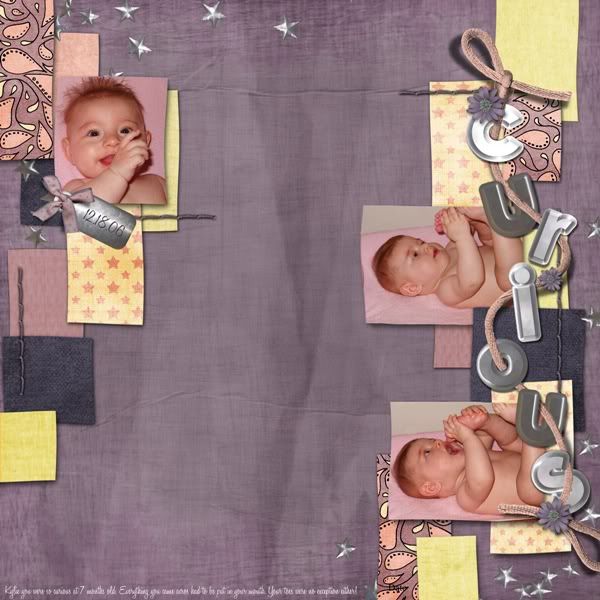 Becka:
Juli did two: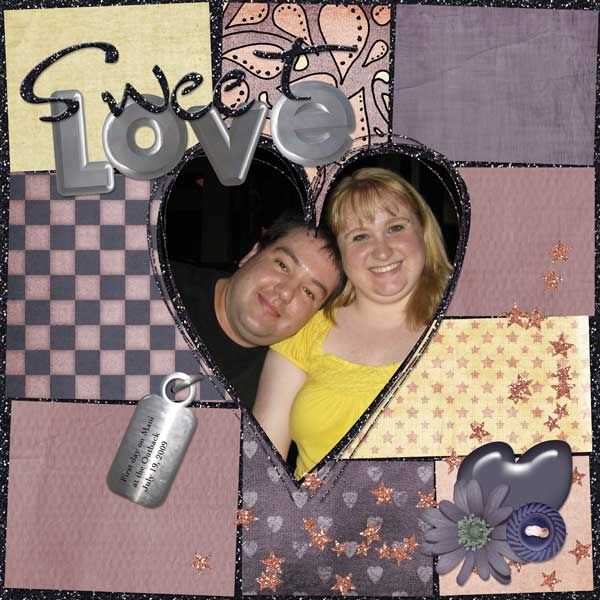 And because I lurve ya'll and because I am COMPLETELY addicted to colored acrylic these days LOL, here is a freebie alpha add-on for you! (lowercase only):
Click HERE or on the image to download, and make sure to leave me some love if you like it!
Hello my lovely bloggie readers, I have some wonderful news! I have decided to join a new store in the fall, called Daydreamer Designworks! I will still maintain my home at Gingerscraps, but I am excited to work with these ladies at the new store. The store opens at the beginning of September and they are holding their store CT call right now!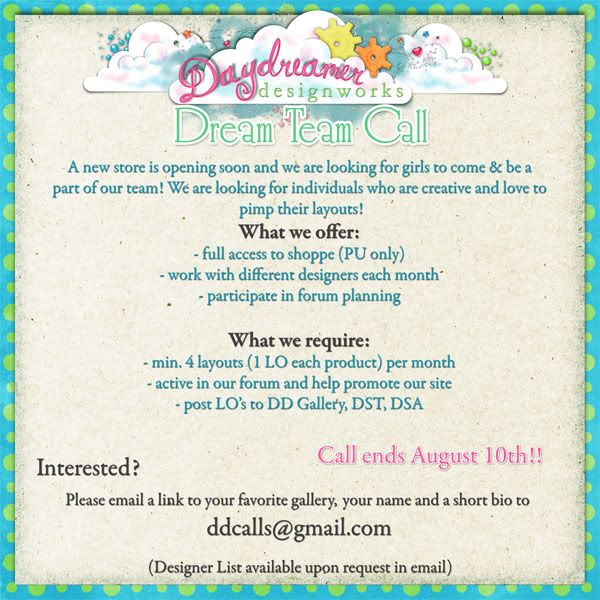 What we offer:
- full access to shoppe (PU only)
- work with different designers each month
- participate in forum planning
What we require:
- min. 4 layouts (1 LO per product) each month
- active in our forum and help promote our site
- post LO's to DD Gallery, DST, DSA
Call ends August 10th!!
Interested? Please email a link to your favorite gallery, your name and a short bio to ddcalls@gmail.com
So if you want to work with some amazing designers and be part of a wonderful team, send in your application!
And so you can show how excited you are, here is the new store blinkie!
I previously released this kit for my week #1 entry in the SYTYCD contest. I've added to the kit and I'm putting it in the store for anyone who missed it!
Here is "Sunset on the Beach"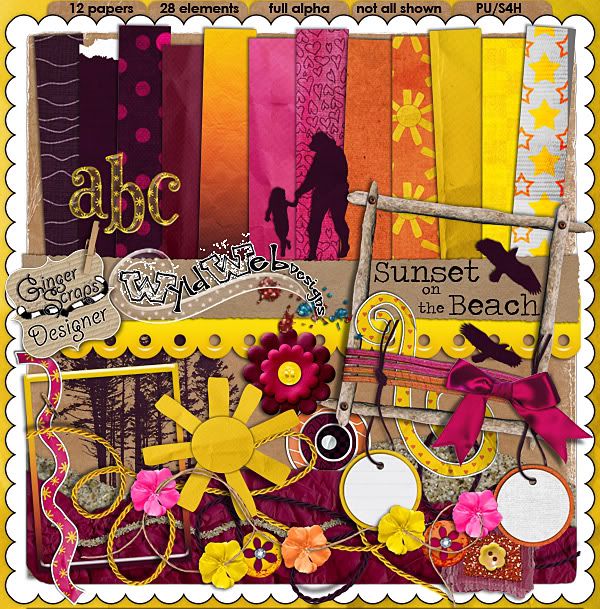 Though this vibrantly colored kit was inspired by the colors of a beach sunset, it is a versatile kit that can be used to scrap any photos of your loved ones.
This kit contains:
12 textured papers, 6 plain and 6 patterned
a full acrylic patterned alpha
3 buttons, one in two colors
2 bird silhouettes
1 mother and child silhouette
1 horizon silhouette
1 acrylic scallop border
1 bow
1 fastener
1 flower
1 string with flowers
3 frames
1 rope in two colors
1 string in two colors
1 sand flourish
1 sandy hill
1 sun
2 paper flourishes
1 tag in two colors
1 tissue paper horizon
I have also created the matching glitter styles for Sunset on the Beach:

Both the kit and the glitter are on sale for 25% off this week only!
Here are some CT layouts to inspire you!
Becka did two: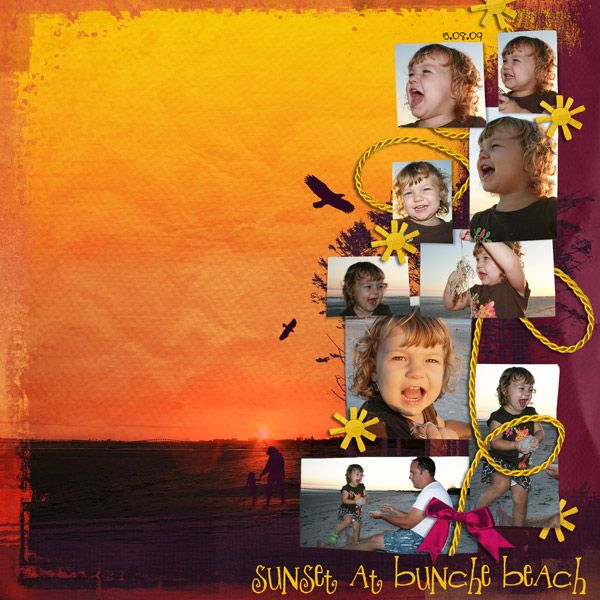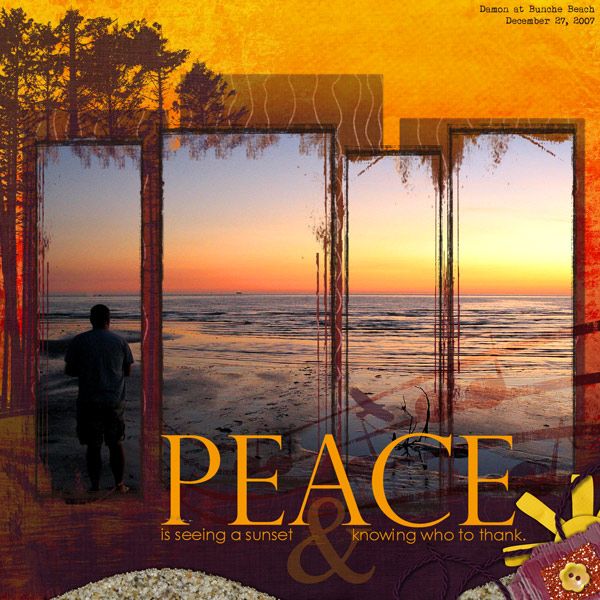 Juli:

Jenn did two: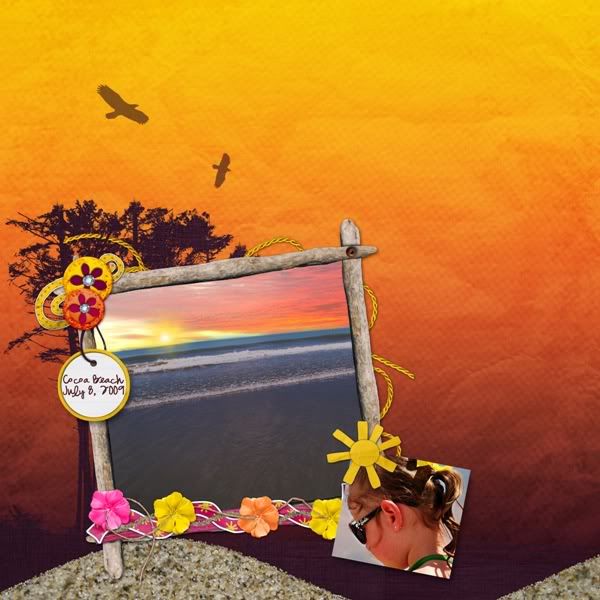 And I've got a little freebie for you to get those evening beach photos scrapped!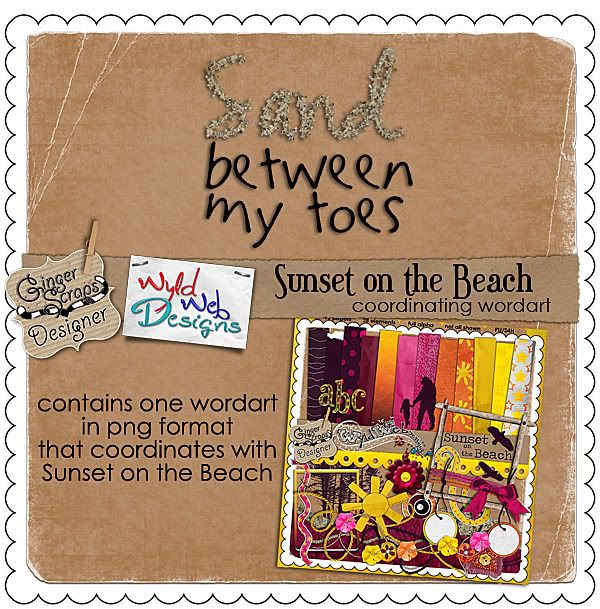 Click HERE or on the image to download and make sure to leave me some love!
P.S.
I made a new logo, tell me what you think!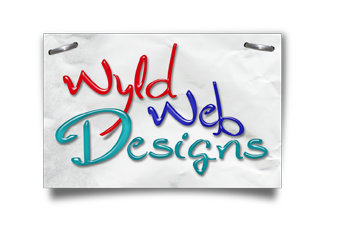 This kit was originally created for the SYTYCD contest as my week 2 freebie, but I have added a LOT to it! "A Scrap A Day"  is on sale for 25% off for the first week only so grab it quick!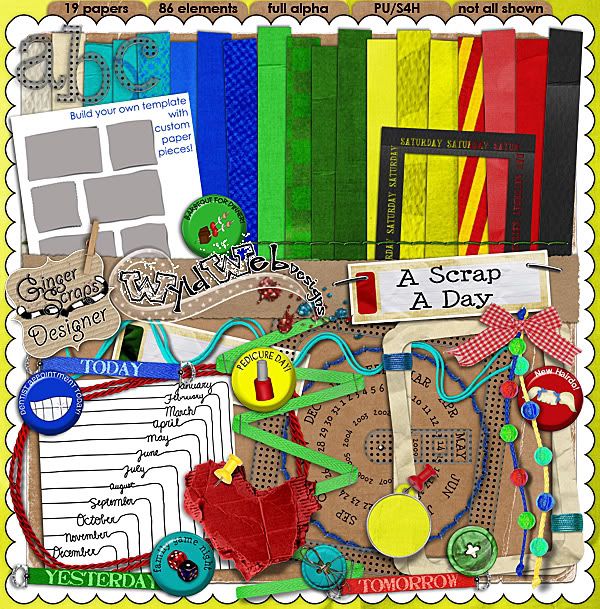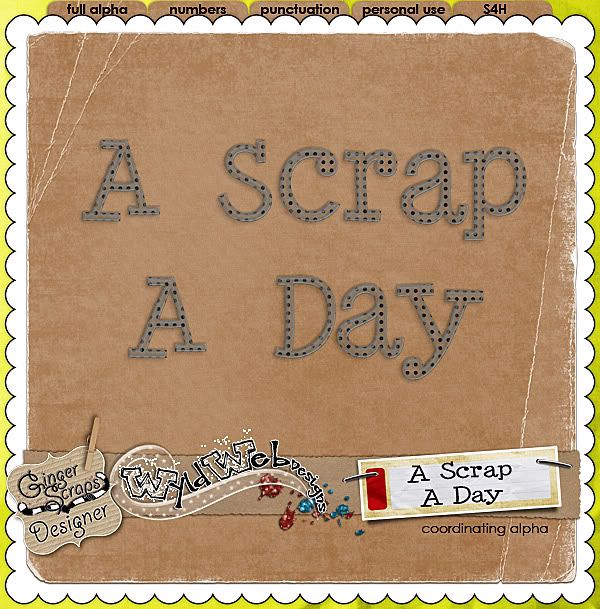 This kit was inspired by Project 365 and contains everything you need to document your everyday stories throughout the year, from a trip to the dentist to the first cookout of the year. It has multiple color options for most elements to add lots of pizazz to your layouts. With the custom created paper pieces and the huge amount of elements, the possibilties are endless!
This kit contains:
19 realistically textured papers, 12 plain and 7 patterned
1 full alpha including numbers and punctuation
1 beaded rope, in 2 colors
1 bow, in 3 colors
1 set of brackets
2 buttons, each in 3 colors
1 cord, in 4 colors
1 folded ribbon, in 3 colors
5 event flairs
3 frames – 1 paper, 1 acrylic and 1 rope which comes in 4 colors
1 set of day of the week frames (7 frames)
1 cardboard heart
1 journaling label, in 6 colors
3 wordart ribbon tags
1 staple
2 sets of stitches, each in 3 colors
1 tag, in 4 colors
1 tack, in 4 colors
1 set of custom warped paper pieces for creating your own template
1 customizeable date wheel from 2002 through 2010
1 set of month page frames (12 frames)
Here is some CT inspiration for you!
Becka made 2: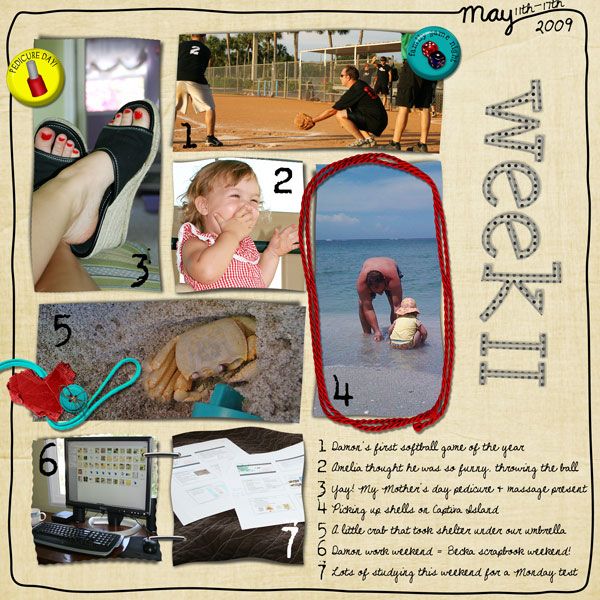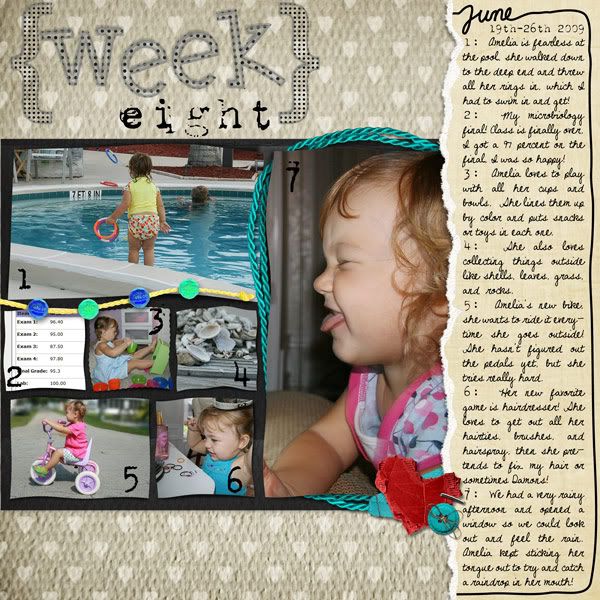 Jen: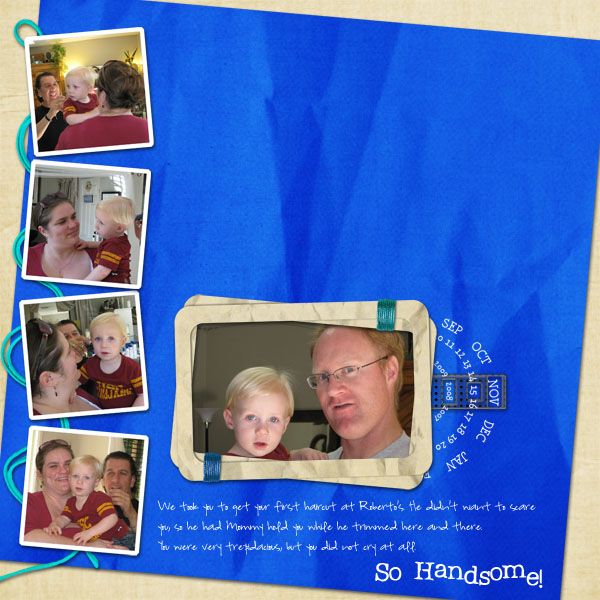 Jenn: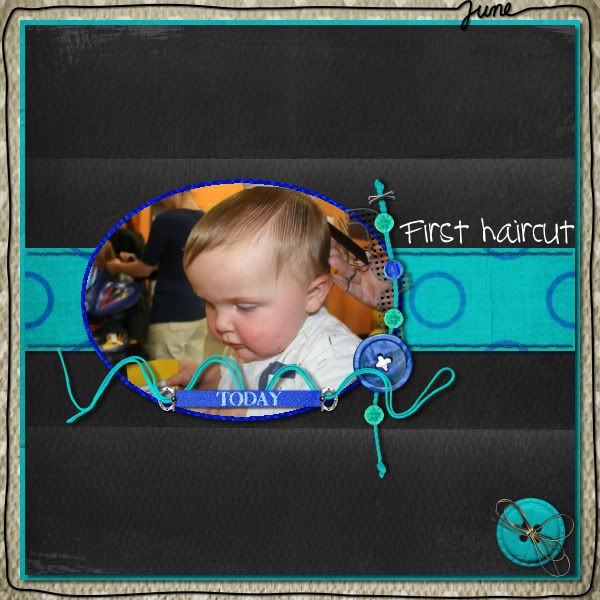 Jill: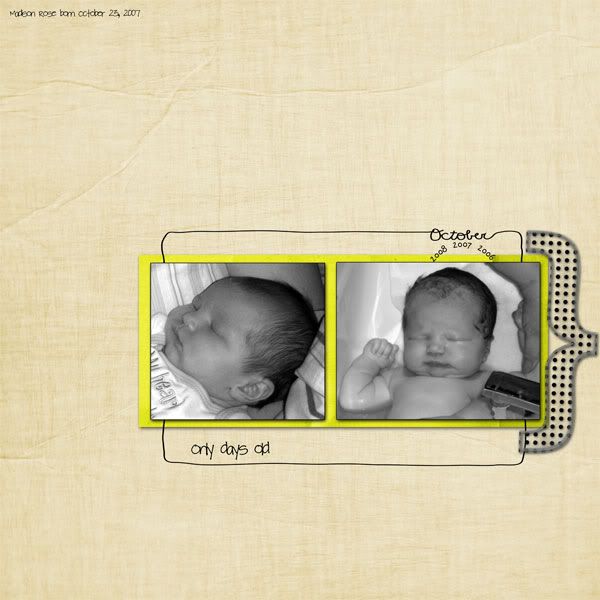 Tara:

Misty: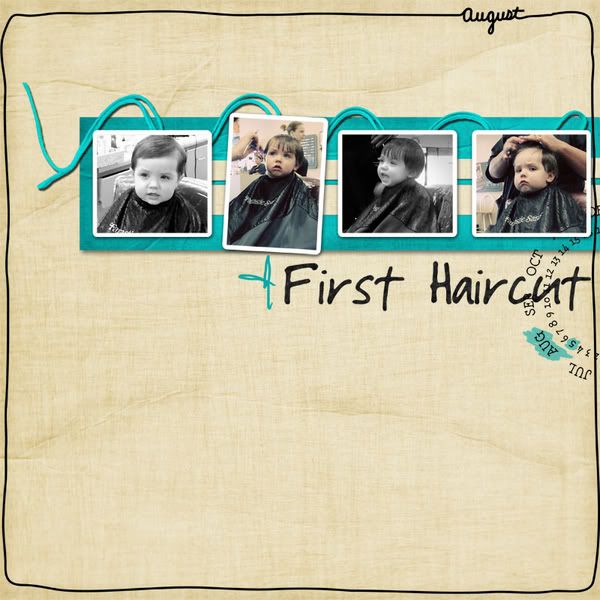 Sally made 2: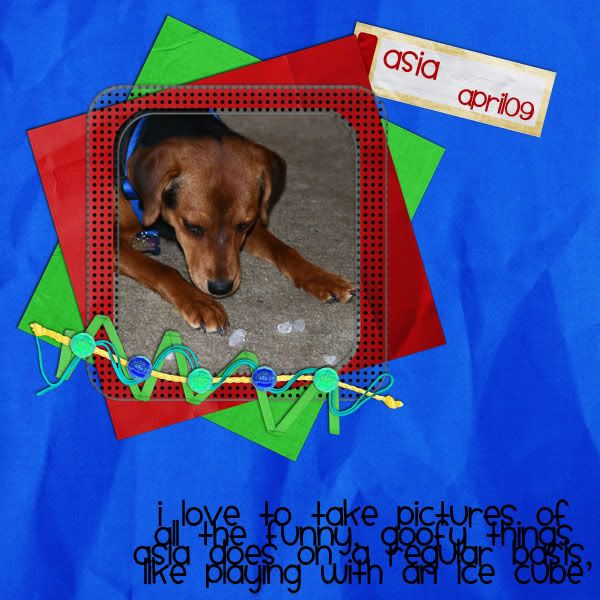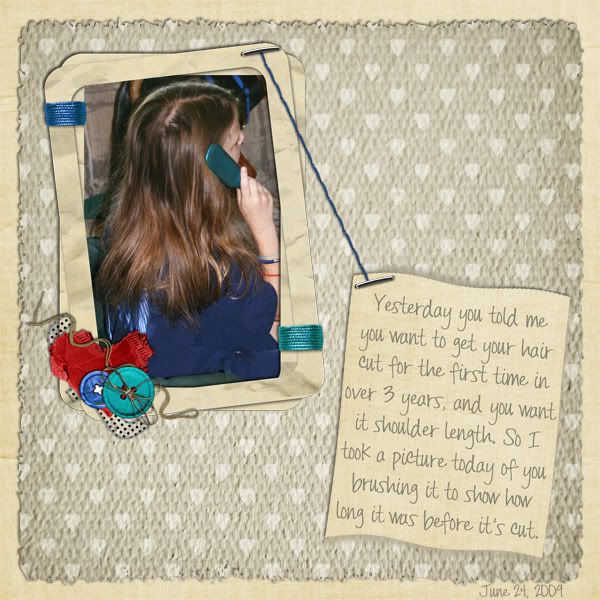 And I've prepared small add-on for you; the acrylic frame and the date wheel in my favorite color, RED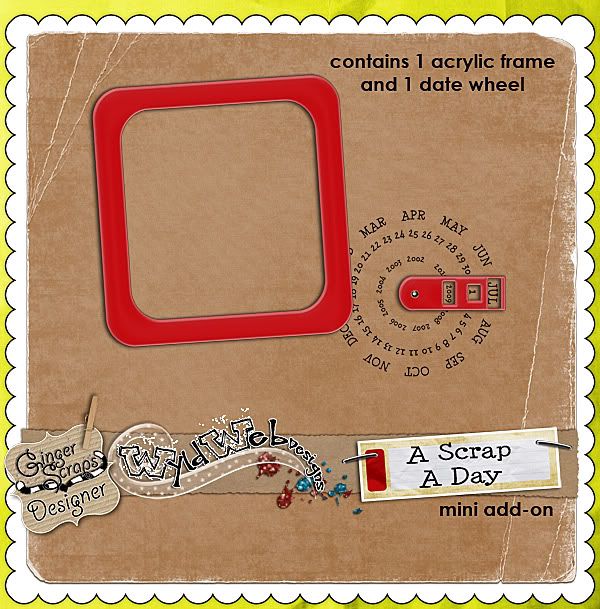 Click the image or HERE to download, and leave me some love!
And hey, in addition, I ran out of ideas to make "daily event" flairs for….feel free to make a request and I will make another freebie add-on of some more flairs!