Archive for the 'Family matters' Category
My friend Julie blogged today about how tough it can be to be super mom. We all want to be a great mom whose house is perfectly clean, healthy meals made and children happy, clean and smiling. Yeah, that was not my day today.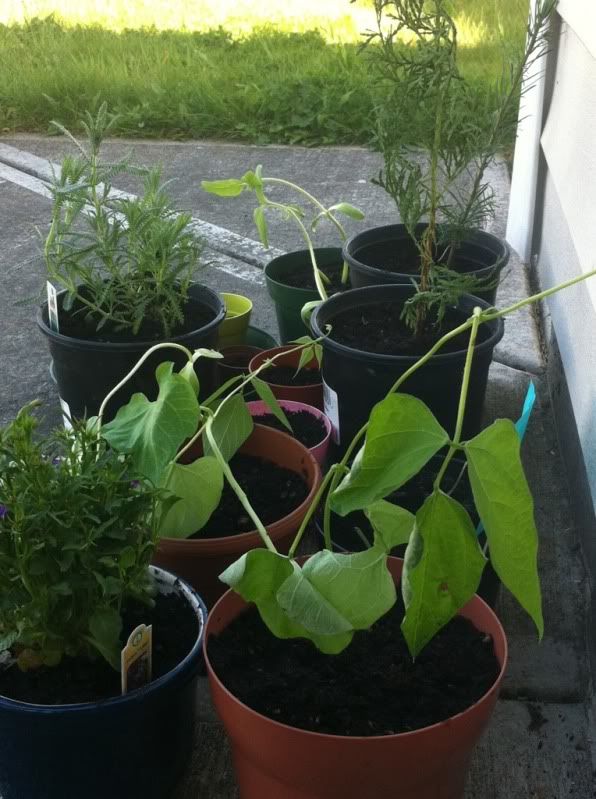 Today, I was the fun cool mom who planted seedlings and seeds with my kids. But to do that with a 15 month old toddler around!?!?? Not so easy. I think he has eaten more dirt than cheerios today. And he eats a LOT of Cheerios.
My kids are now filthy dirty in their nice clothes, dinner isn't even started and the house?!?? Don't even ask. I'm sitting here in my lawn chair watching them play and trying not to feel guilty.
Just keepin REALLY real!
So this post is 100% not digi-related, but I thought I'd share this funny story with you anyways. I've been making a huge effort in recent months to make myself, and therefore my young family, eat a healthier diet. Specifically, eating less processed food and more whole, fresh foods that we cook and eat at home. We are far from perfect, but I try to read labels a LOT more and buy much more fruits and veggies. So today was shopping day. It was a long one, we even needed to go to two grocery stores to get everything we needed. The kids were VERY well behaved (ok, except for the part where Q kept trying to smash his head into my face every time he got excited while riding in the Baby Bjorn….but I digress). After we got home with the groceries, I dumped them out with my husband and took off with Lilah for some girl time at the nail salon. So after a very busy afternoon and evening and finally getting all the kids in bed, I had time to put the rest of the groceries away. I got to to the bottom of the bags of dried beans, raisins, oats, brown rice, etc…you know, all the healthy food we bought. And the last item I pull out of my (reusuable, of course) shopping bag? A box of instant Ichiban noodles!!!! I had to laugh out loud, it is the very antithesis of every food I purchased today! It must have fallen over the divider on the supermarket belt when we checked out from the next person. I didn't even mind that I probably ended up paying for a box of useless instant noodles because it was so ironic and funny to have that in my bag after an afternoon of planning, shopping, preparing and putting away a week's worth of healthy food!
Stephen and I have gone back and forth for a while now about whether to get another dog. The answer was always no, too much work, too much mess! Well, one of my customers this week brought in his lab puppies and that's it, my heart was gone! This is my new puppy: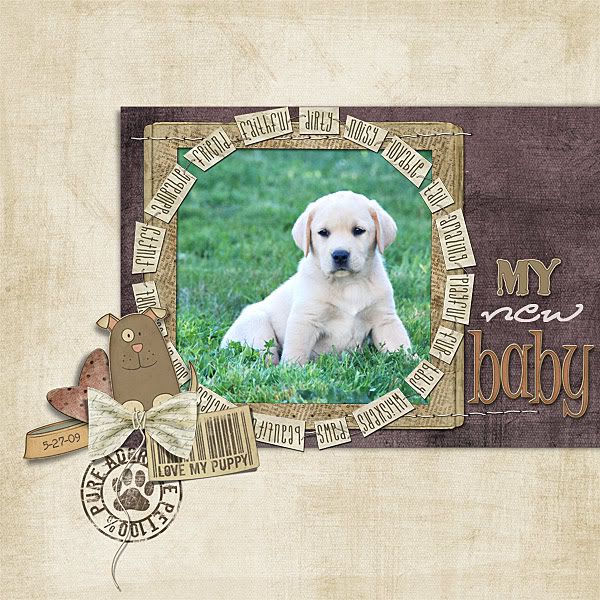 Kit is from Ziggle Designs and Irene Alexeeva, Happy Tails.
Isn't he GORGEOUS? I really don't need another dog, but I just fell in love. We don't have a name yet, anyone have any suggestions?
Good thing I have scrapbooking as my stress reliever and creative outlet….there has been a lot of 3 year old attitude and 20 month old screeching in here the past few days!
I have resolved this year to do a Project 365 of photos; take a picture everyday no matter what! I hope to scrap a weekly layout with them so that at the end of the year I will have an amazing documentation of our year as a family.
Yesterday I was snapping a few of the family outside in the snow and I got one of Lilah that I just love:


Today I turned it into this layout which is now my reining favorite:


I hope you like it too! Click HERE for credits.
I have been working so much overtime that it was really nice to have a weekend off to spend together as a family. On Saturday we hit the pumpkin patch and then went to the local mall bookstore for a Halloween story time and some ice cream. A couple hilights:
Perfect Pumpkin
Kit: Harvest Hayride by MommyMedic
Template: #240 by Andrea Gold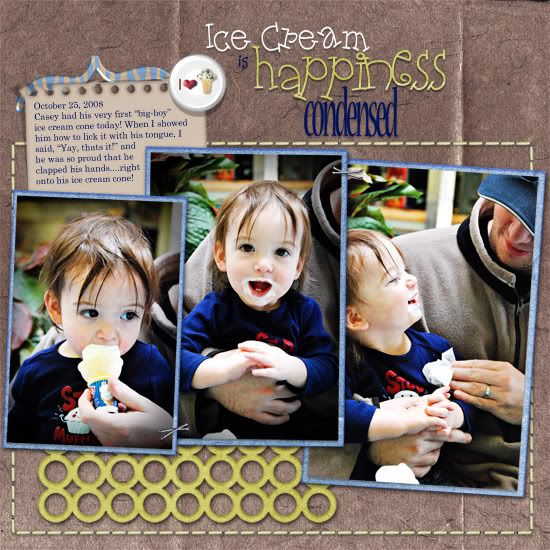 Ice Cream Happiness
Kit: Boys will be Boys by AWP-designs by Vicki
Wordart and button: Ice Cream Dreams by ScrapShana
Template: Template 6 by Céline031
Stitches: Shabby Summer by Christie Lemmon Designs
Staples: Plaid freebie by Pineapple Plantation Designs
On Sunday we went out for breakfast and then hung out at home. Lilah got to paint (her FAVORITE thing right now) while Casey napped, and then we all carved pumpkins in the afternoon. Or rather Stephen and I carved pumpkins while the kids  got covered in "pumpkin brains". But the effort was worth it, behold the super cool pumpkins: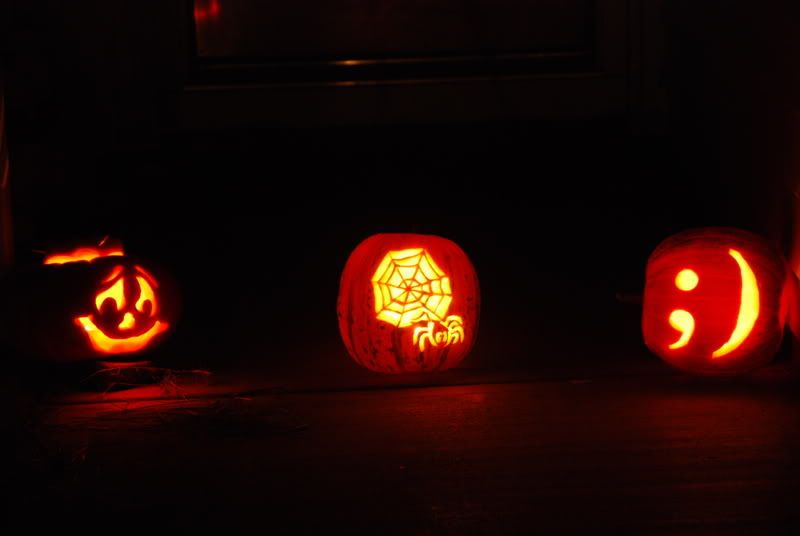 Can you guess what the pumpkin on the right is? How fitting for our household!
We had beautiful weather this weekend and I had the picture taking itch, so off to the park we went. Here is my page from tonight's scrapping: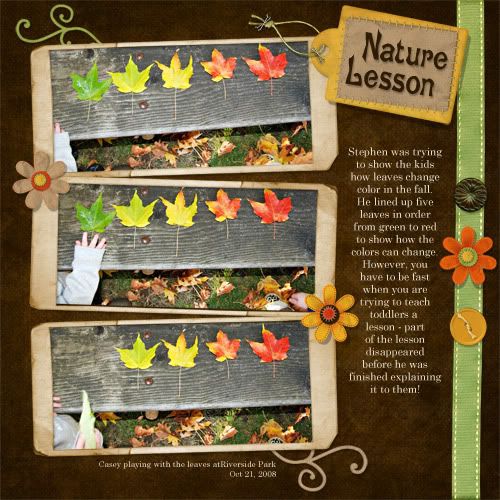 Kit: Sweet September by Lliella Designs and JannyLynn Designs
And a few cutie-patooties from the picture taking itch:
Casey taking in the wonder of nature.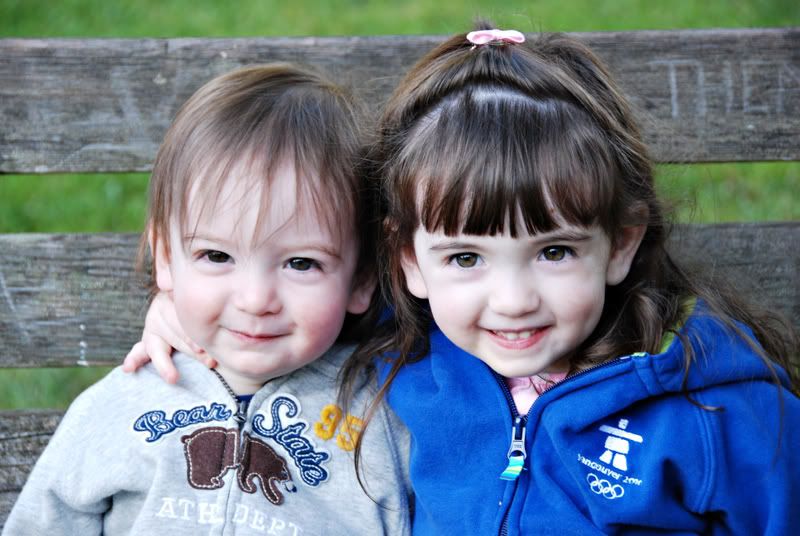 Aren't they the cutest things you've ever seen?
Yay! We got the remote to work and everyone looking at the camera!!!
A trip to the zoo this past weekend with our friends Jen and Alton:
Kit by Tabrizia, Sweet Emotion.
Speaking of Jen and Alton, here they are: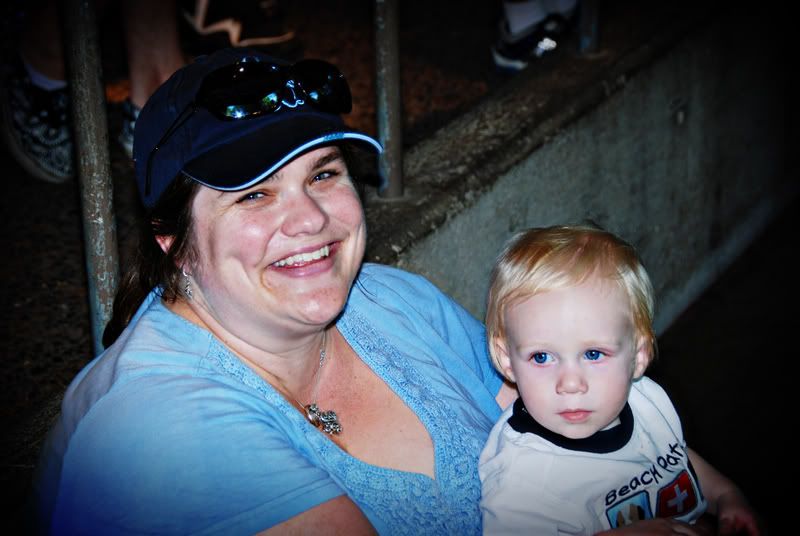 I've been playing with my photoshop actions a lot lately, from Pioneer Woman and Doug Boutwell too, and they make such striking photos! Now the SOOC (straight out of the camera) shots looking boring comparatively!
Here is one that Jen likes to call, "Potato Chip Shangri-La"
Playing with the lighting and the color makes his lovely blue eyes pop even more!
And here is one of my handsome men of course: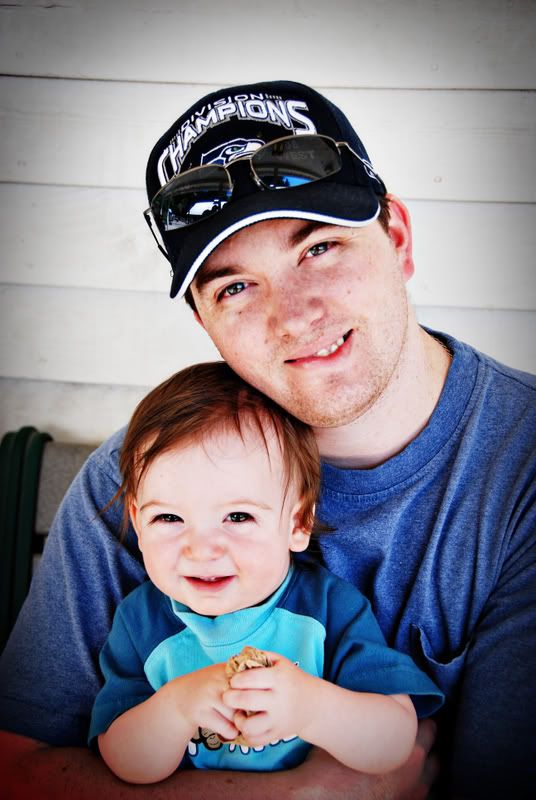 And finally my little princess (well, my dirty, wet, playing in the pool princess anyways!):
Ok, I admit it, I'm addicted to edge burn. I'm sure there is a 12 step program for me somewhere!
Thanks for checking us out!