Archive for the 'Funny Moo Stories' Category
or "Pou-cons" as they are called by my preschooler
Jen and I both have coupon ads in the new Digital Scrapper News Magazine.
There are some coupons in there from some other great designers too. Go check it out!
Lliella Designs released two new kits today that I adore. I have only purchased a couple of kits and her designs are among them. I had to use this quickpage freebie from her blog for these pictures from this summer: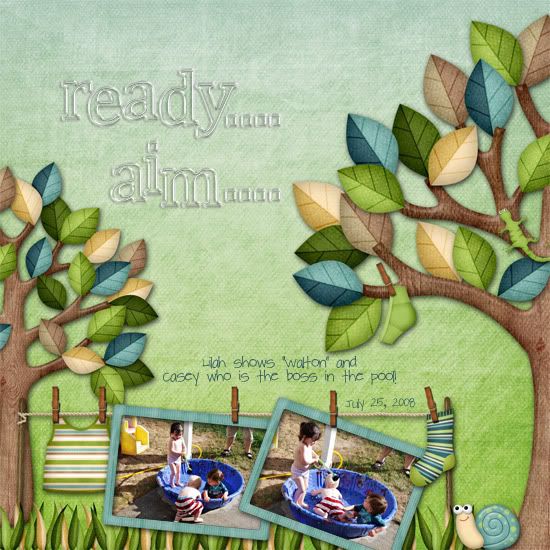 I just love that Lilah has totally taken aim at both of the boys heads in those pictures! Yeah girl, lay the smack down!
M: "What do you want for breakfast Lilah?"
L: "Peanut jelly and butter, mama."
M: "Peanut butter and jelly?"
L: "Yes, peanut jelly and butter, mama."
And while we were preparing breakfast together, Lilah covered her mouth and let out what I thought was a sneeze.
M: "Bless you."
L: "NO, that my mouth!"
M: "Oh, you didn't sneeze?"
L: "No, silly mama, that my mouth!"
So I guess it was a cough instead. But hey, she covered her mouth without being told!
Last week Lilah took her very first ballet class. It was one hour every day for a week, no parents allowed. *sniff* My baby! On the last day we got to watch and it was so adorable! Lilah was, of course, the youngest and smallest in her class, but she tried so hard to keep up to the older girls! She was so proud of her passe, arabesque and pointing her toes! Here is a scrap page I made of her first experience with ballet: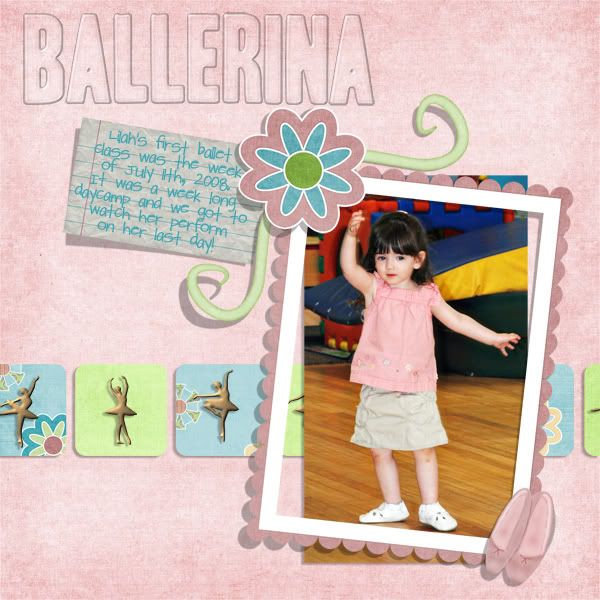 Credits: Kit: Heart song mini by Ellie Lash, Ballerina brads by Kiere's Creations, Paper journal by Lindsay J Designs, Ballet shoes by Mommyscraps, Epoxy alpha by Christina Renee, Template by M Originals.
Now she runs around the house trying to get Casey to "point your toes!" or "passe Casey!". Today Daddy tried to make her jump over the "mud puddles" like her teacher did, and I love to see her beaming smile as she "strikes a pose" after running and jumping over them!
I have been neglectful of my poor little bloggie! When I work 12 hour shifts, there is just no time to do this. And no funny stories of the kids or pictures to scrap
Here is a page of Lilah and her BFF that I did for the Applecart Challenge at Scrap Orchard:
Kit is by Ellie Lash, stamp by Welli Designs.
We are attending her BFF's birthday party tomorrow!
The girls were in dance class together this week and it was so adorable watching them dance ballet! Miss Elizabeth gave them free dance time near the end and Lilah was holding her arm up above her head and just kept spinning in circles like a prima ballerina, with a huge smile on her face! She loved it! I forgot my camera, I will have to post pictures when I get copies from her BFF's dad!
We had no food in the fridge after we got back from our holiday. I sent Stephen to the store for basics like milk but then today I had to make a big shop to get some healthy food in this house.
I was a good girl, I perused the flyers, clipped a few coupons and made a list. Lilah loves to "clip coupons" with me when I do this. On our way out the door to go shopping, Lilah handed Stephen a tiny pile of paper scraps and said, "here Daddy, here's your Poo-Cons".
Oh my. I had trouble walking out the door I was laughing so hard. Could she get any cuter?
Stephen is out of school, hooray! We went to the park to play this afternoon, and it was beautiful and sunny! It was so nice to spend time as a family for a change! Stephen took a lovely picture of me snuggling with Casey, something Casey loooooves to do! I made this page with it: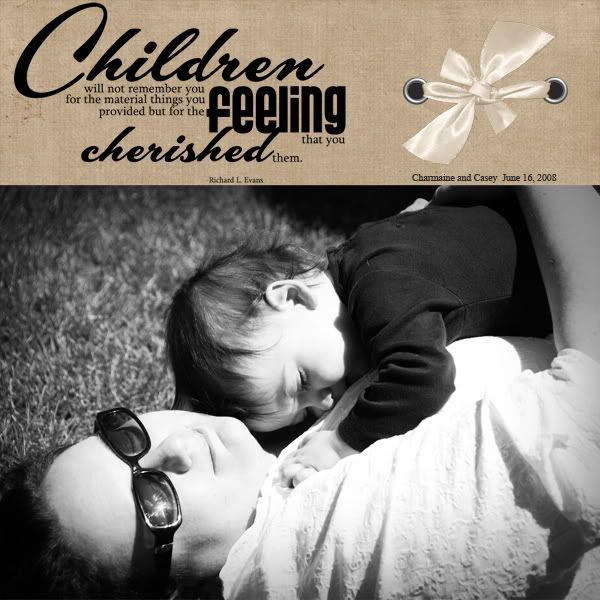 Paper and bow: douxreves by Petit Moineaux and Wordart by Bethany, of Elegant Wordart.
But of course we can't forget to scrap a page of Lilah too…..last weekend we went out for Sunday breakfast and Lilah wanted to pick out her clothes. She is very interested in dressing herself these days, and will put up a big fight if I try to change her mind sometimes. I picked out a cute little flowered pink t-shirt with jeans. She agreed to the t-shirt, but did NOT want to wear jeans mommy, "I wear stripe pants!" Sigh. Ok, fine, whatever. I told Stephen that I would just tell everyone that "daddy dressed her today"! She of course had to top it off with the hot pink shoes and fancy sunglasses, as seen is my page below….I think all she is missing is a feather boa!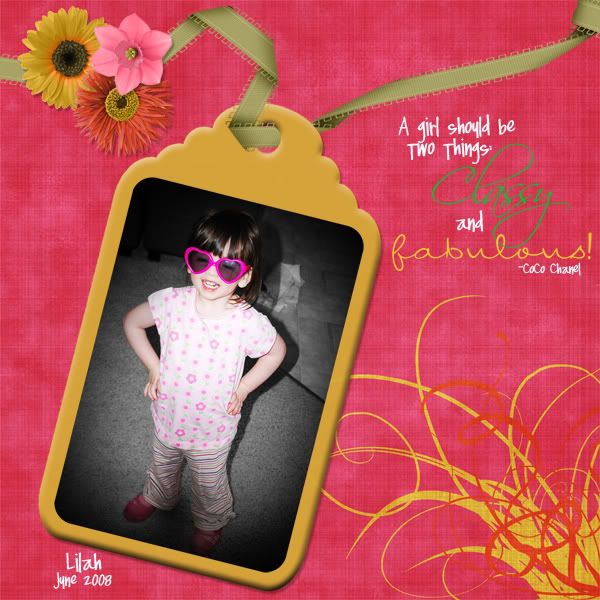 Kit is by Tonys Mama Designs, she makes wonderful digital kits! Visit her blog HERE. And make sure to check out her store at Scraphead!
Last but not least, here is your freebie, my wordart above: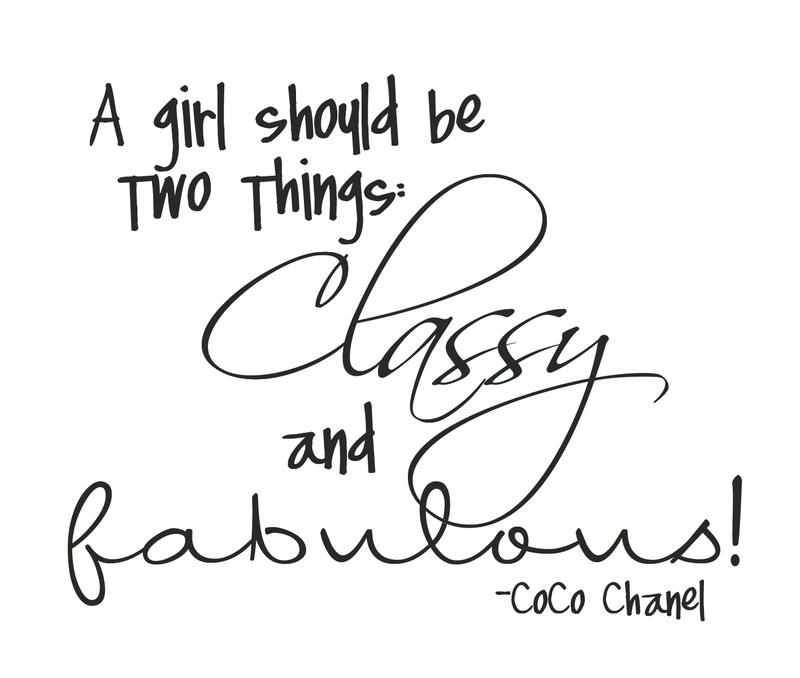 You can download it HERE.
Happy scrapping!
"MEESKA MOOSKA MICKEY MOUSE!" chants Mickey Mouse.
Yesterday we received all the parts to upgrades Charmaine's computer. Of course Lilah had decided that she needed to help fix "mommys puter". As I had the computer on the table taking out the old pieces and putting in the new ones, out of the blue Lilah says "Oh Toodles!".
Her favorite cartoon right now is Mickey Mouse Clubhouse, so that's where Toodles comes from. She looked around the room, then points to a spot and says, "There he is!, I need a ribbon to fix mommy's puter." She then tuns and acts like she is tying a ribbon onto the case. A few minutes later she does the same thing, but this time she needed some scissors so she could cut the ribbon she had just put on there.
So to sum it up, the people that were helping fix Charmaine's computer were me, Lilah, and Toodles.
I asked Lilah what she would like for lunch. She said she would like pancakes. Trying to get her to pick something else I told her that we didn't have any pancakes. To which she replied, "We can go to the pancake store, get pancakes then come back home". Well to her the "pancake store" is the Denny's restaurant that we have breakfast at sometimes.
We have had such a busy schedule lately that Stephen and I hardly ever see each other. One of us is always either working and/or in school. So we were excited yesterday afternoon that he could join the kids and me at the local YMCA pool for a swim. We finally had some nice family time, the kids had a blast and I loved seeing my husband for a change!
Later that night, when Stephen was giving Lilah her goodnight hug and kiss, he said to her, "Mmmmm, you smell like pool-water!"
Lilah replied, in a horrified voice, "No I don't Daddy, I don't smell like POO-water!"