Archive for the 'Kit Release' Category
Happy December! Eek, did I just say that! I can't believe it already! Just a quick note to show you my Buffet release for this month!
http://store.gingerscraps.net/Snowball-Fight-Doodles-by-Wyld-Web-Designs.html

Snowball Fight Doodles
http://store.gingerscraps.net/Snowball-Fight-Snowzy-Frozey-Alpha-by-Wyld-Web-Designs.html

Snowzy Frozey Alpha
Thanks for looking, now I've got to run, I have a busy weekend ahead!
P.s. please excuse if this looks wacky, this is my first time doing an entire blog post from my iPhone!!
It's September 1st! And you know what the first of the month means – buffet time!! I'm excited to share my portion of this months Gingerscraps Buffet, Life is Beautiful! I super puffy heart the colors and theme this month and ended up with a mini and some wordart for you!
Each piece of the Gingerscraps Buffet is only $1.50 for the first few days, that's 25% off! Each piece is coordinated to match, so you can make your own mega collab with it!
Here is some lovely CT inspiration!
by Trina
by Sheryl                                                                                 by Jen E
by Gina
by Colleen                                                                               by Lynett
Thanks for looking and see you in the forums!
xoxo
Happy last day of August! Wow, that's kind of an oxymoron, right? "Happy" and "last day", *cry*!!! I've had a great summer, we had Back to School Night last night so we are ready to be in full swing next week!
I have a new template pack to enjoy during the Labor Day weekend, so take a look and enjoy a break from your Labors!

Only $2.25 this week, that is 25% off!
If you want to see a little inspiration, check out these from my CT!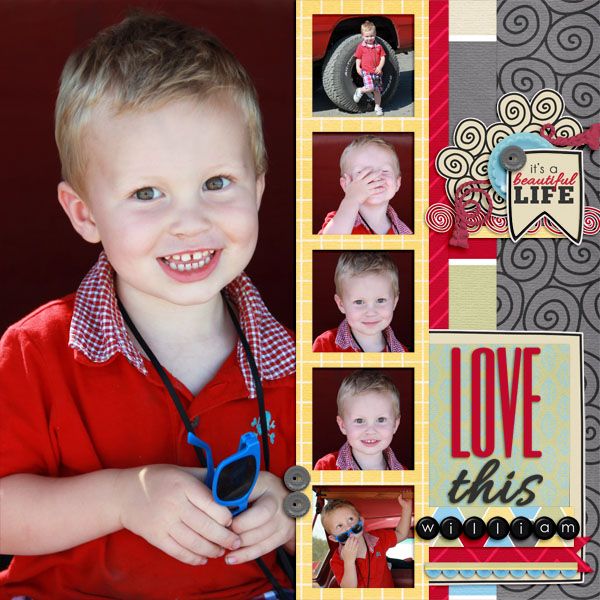 from Colleen. (P.S. This is a sneak peek of products I have coming TOMORROW!)
A fabulous 2 pager from the Gingerscraps CT Lisa.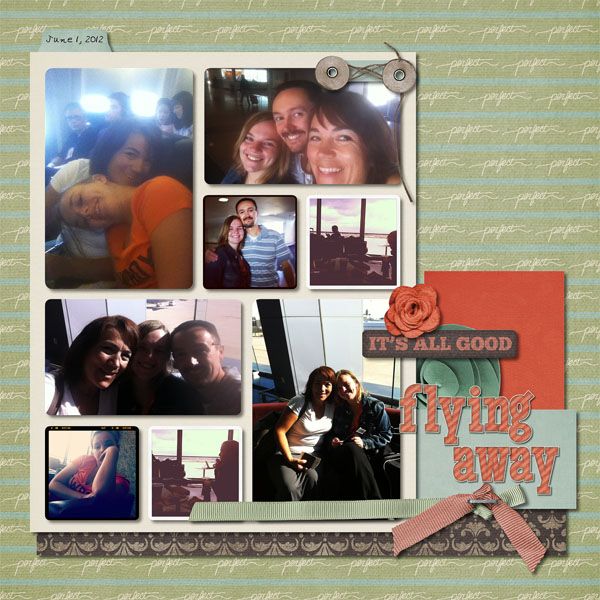 From Lynett.
Thanks for looking, and have a great weekend!
xoxo
Wow, time for school again! I had a great summer and I hope you did too, but it is time to get ready for school days again! I love the prep for back to school actually, the supplies, the school shopping, all of it. I know I will change my tune once my daughter is old enough to be a challenge to shop with, but until then I will just enjoy it! Here is a kit that I've been working on for a long time, and it is finally ready!
If you have someone in school, this kit is the perfect one to showcase their days of education! Our digital agency works with many options for you and your family,  if you are a small business we can set you up with everything you need to know.
This is a special kit, Full of original doodles and school themed elements, this digital scrap kit is sure to show off your schoolboy or schoolgirl in style!
There is also a coordinating cardstock pack:
And a full alpha set that is perfect for your school themed layouts:
For this week only, I have a FREE WITH PURCHASE deal! Buy the full School is Cool kit, and get the Grade Labels for FREE!
Here is some fabulous inspiration from my creative team!
A two-pager by Trina: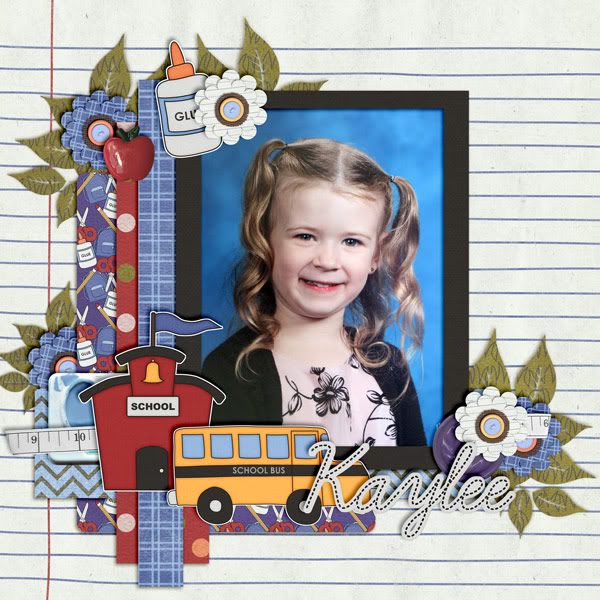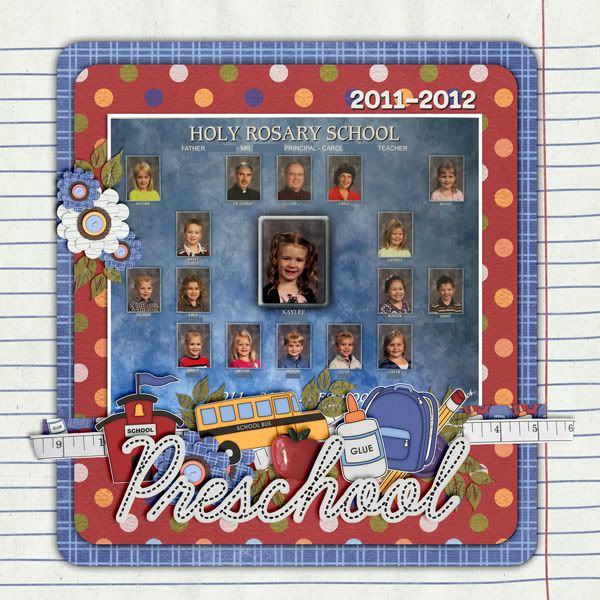 A lovely back-to-school page by Jen E: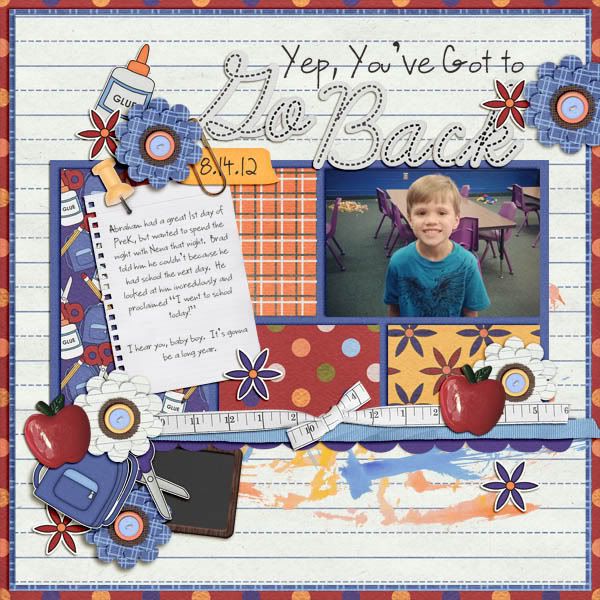 And a declaration of love for school supplies by the Gingerscraps CT member, Judy: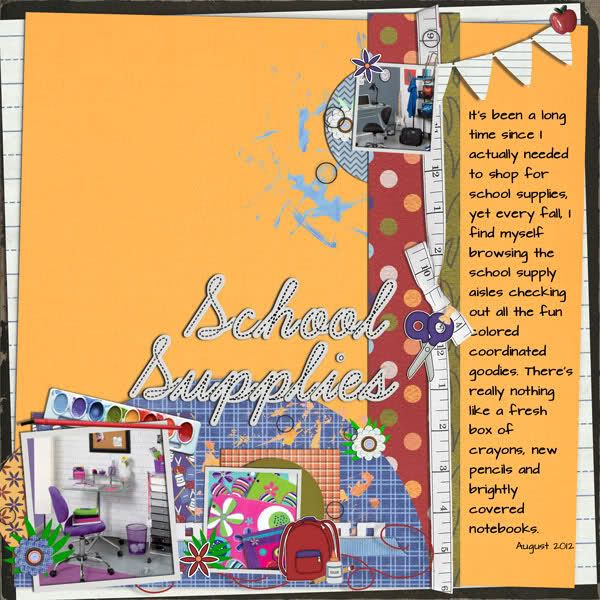 Thanks for looking, I would love to see your layouts with this collection – there is nothing quite as sweet as a school page of our little ones!
xoxo
That's right, Gingerscraps is having a special Christmas in July celebration!
Save big on all Christmas related products in the store, including my Christmas themed products:
Find my re-release, Funky Christmas, part of a huge matching Gingerscraps Buffet:
And don't miss the special challenges and games as part of our celebration this week! Go check it out in the forum! I've got a selective coloring technique challenge for you!
Finally, you can get this awesome mini as part of our Gingerscraps Christmas in July Facebook Hop!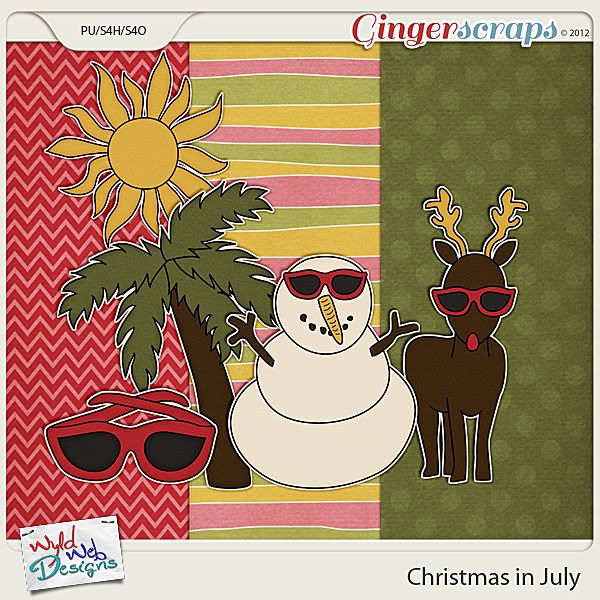 Have a great "Christmas" this week!
xoxo
I got the chance this month to collaborate with the lovely Kathy Winters, and we created this manly collection for you! It was inspired by my crazy family actually. All the men in my family wear these hideous plaid jackets all the time around the house and it is an ongoing family joke that they are actually "dinner jackets" for hicks, or "Beaver Creekers" as they are called in my hometown! So that is where the unusual title originates from! Here is a picture of my husband, my brother, my stepdad and, for fun, my sister-in-law, in these "lovely" plaid jackets this past Christmas, taken moments before our formal dinner was served: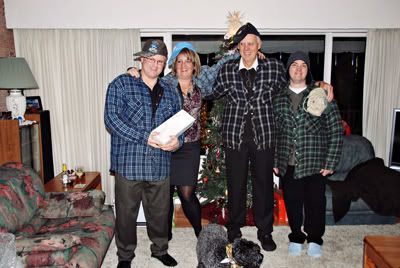 So, picture these crazy people when you peruse this masculine collection!
And of course there is a multitude of add-on products from both of us!
Of course we also have these goodies bundled at a huge savings, save 60%!!
I also have a HUGE sale going on right now! I'm retiring some of my older kits and products, and they are all 70% off!!!
These items will all be gone for good after this sale, so if you have anything that catches your eye, get it now, you will not see it again!
Thanks for looking, have a great weekend!
Yay, the 1st of the month is always the best – it's Buffet time, Bake Sale time, and the new challenges get posted!
I have a new element pack for you this month that coordinates with the Reading Room March Buffet:

Pin It

Reading is huge in my house, we've always read to the kids and they all love to read themselves to sleep at night. Ok, not the baby, but he is well on his way. He even "negotiates" for more books at bedtime with his new-found understanding of the phrase "one more"
This element pack is only $1 for the next few days, get it on sale! It coordinates with the rest of the fabulous March Buffet as well.
Here is the layout I created with my pack and some from the other GS designers: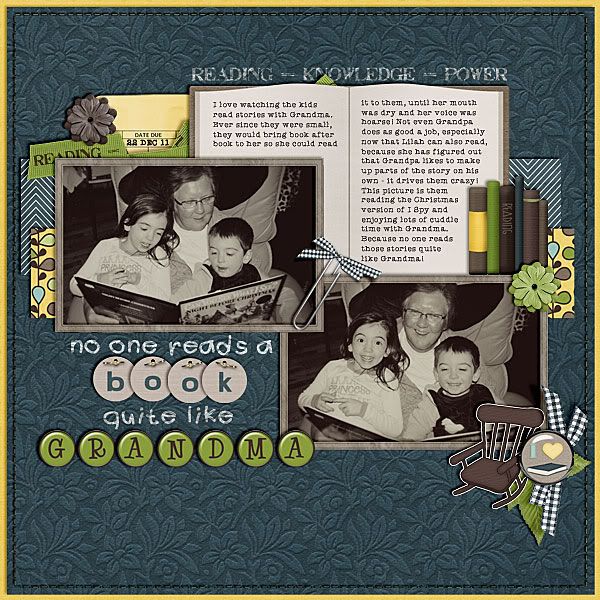 I'm also hosting the March Template challenge at Gingerscraps, so head on over to the forum for this template and play along with me: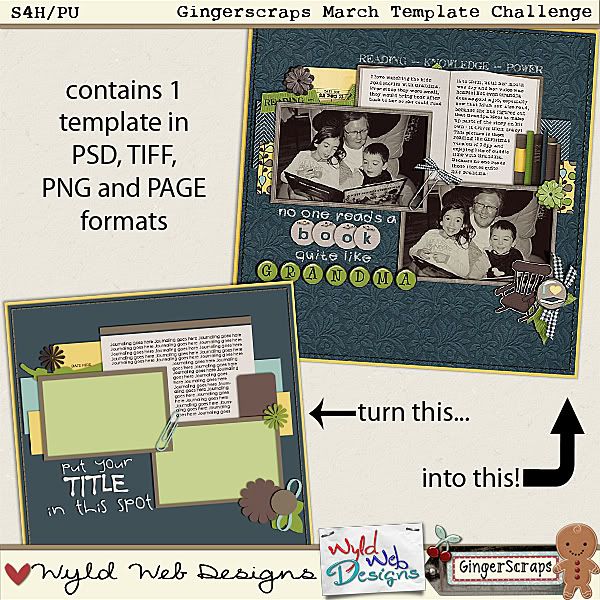 Thanks for looking, and I'll see you in the forums!
Today I have a new product that is both personal and commercial use friendly, some Grungy Splats! I created these splats from photos I took near an old abandoned train depot that is absolutely COVERED in graffiti. So graffiti is ugly and destructive, but at least I can get SOMETHING useful out of it!
This set of grungy splat brushes will add depth and realism to any digital design! Each splat is available in both PNG and ABR brush format so they can be used in any program. Add dimension to your personal scrapbook layouts or use them in your next digital kit. For tips on using them realistically on your pages, check out this tutorial on my blog.
Thanks for looking and I'll see you next week with a couple more new products!
Hey there digi lovers! A house full of sick kids and a crazy busy job kind of takes a toll on my computer time, I feel like I've hardly been around lately! I've also been working really hard on losing weight, and my hard work is paying off – 12lb so far! Now I just need to get the exercise piece of weight loss going….its hard to be motivated in the cold rainy season!
I have a brand new Valentine-themed kit for you today, inspired by the adorable picture of my daughter with our dog, Jackson, pictured in the preview:
And yes, she is sitting on him. LOL! Poor puppy, he is the most patient thing in the world. Ok, at least with our kids – with us he's a grumpy old man and grumbles at us when we tell him to get off the couch!
I also have a set of coordinating papers:
These are part of Gingerscraps February Buffet – Smorgasbord! It has been one full year since Gingerscraps starting doing their monthly buffets, and to celebrate, the designers have gone back through the past year of color schemes and themes, and added to our collections with anything we might not have had a chance to make back then! I never got a chance to do last February's theme with these lovely pink colors, so this was my contribution! So these two packs coordinate with everything else in the February Chocolate Kisses Buffet! Only $1 for the first five days of the month!
Also to celebrate, Gingerscraps is putting every single previous buffet on sale for $1 too!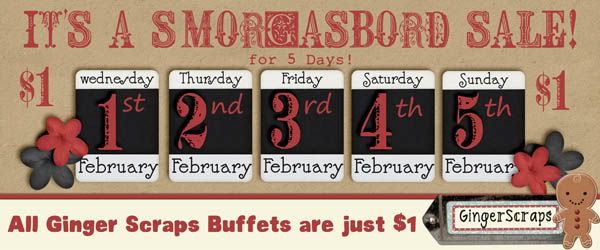 Here are some of my previous buffet contributions, only $1 right now!
All of these, only $1 right now!
Happy scrapping and thanks for looking!
Greetings digi lovers! Happy Friday! It's been snowing, blowing and froze-y here this week and I'm looking forward to a day off work tomorrow! Perfect for scrapping I'd say!
I have a new template for you this week, perfect for scrapping about the ones you love!
A uniquely crafted template with 50 pieces that compose one heart, this template will show how much your love shines through. This template is provided in PSD, PNG, TIFF and PNG formats for your scrapping convenience.
Here are some layouts from my creative team and the Gingerscraps store team: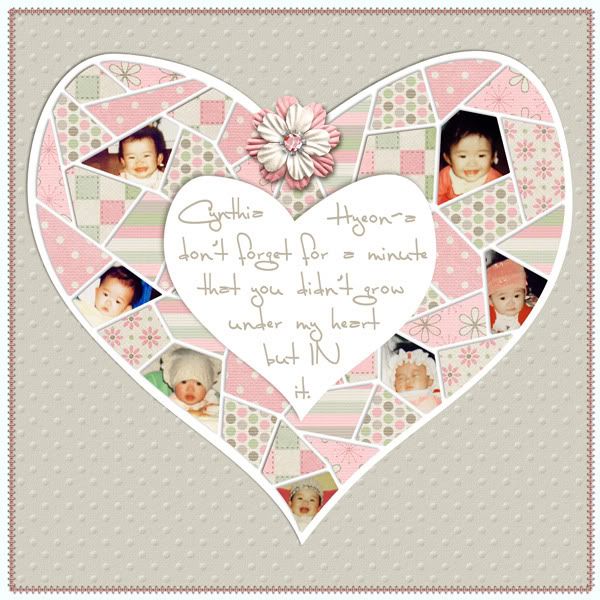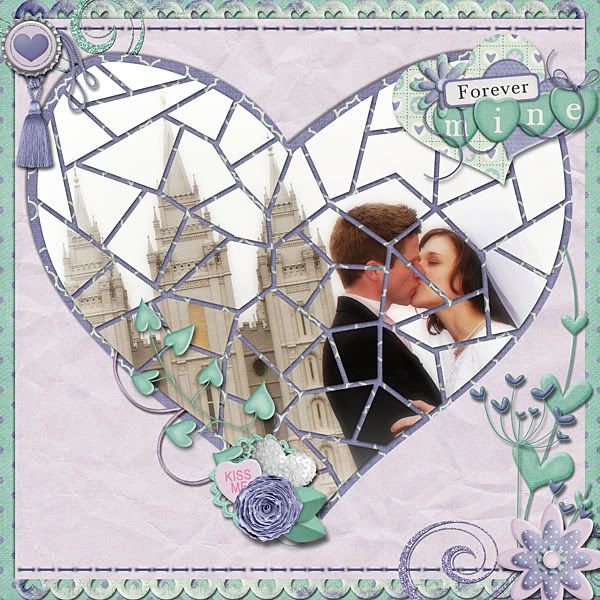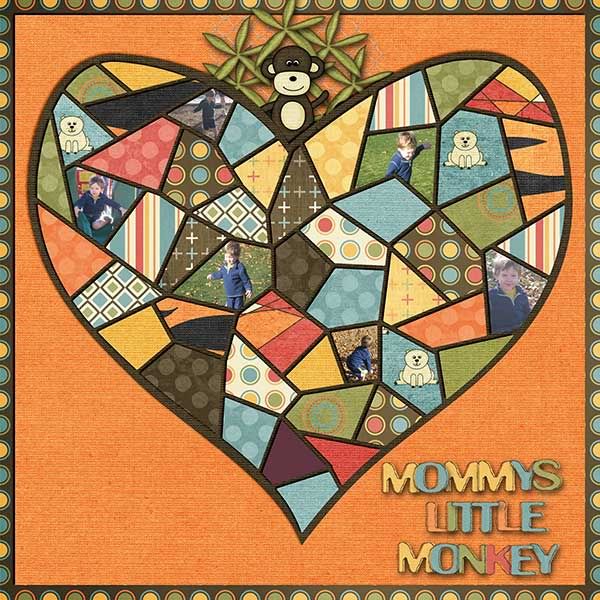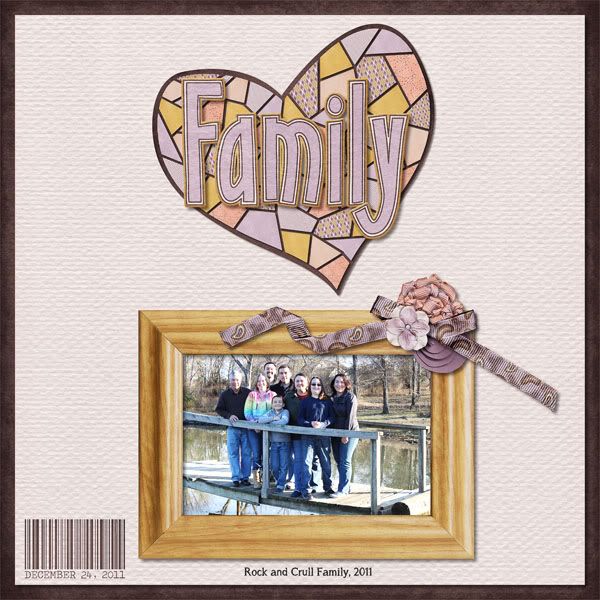 Get it this weekend, only $1.50!
Happy scrapping and thanks for looking!