Archive for the 'Scrapbook' Category
Good morning. I am alone in the house with no kids. This happens maybe once every 6 months. So quiet

After many days of yucky rain, we had a gorgeous sunny afternoon yesterday. I just *had* to take my little guy outside for a photo shoot! I have had my DSLR for over 2 years now, but I just recently figured out how to take manual photos! Can you say slow learner?? Thanks to the free photography course at 2 Peas in a Bucket! I attended a speed scrap at Gingerscraps last night and this is what resulted:
Image linked for credits.
I used last months Digi Files from The Daily Digi. I love that blog, I would love to be featured on there someday!
Make sure you join me next Monday at 8pm PDT when I will be hosting the speed scrap at Gingerscraps!
Enter to win a copy of "Mommy's Little Stinker" on Digiscrapgiveaways!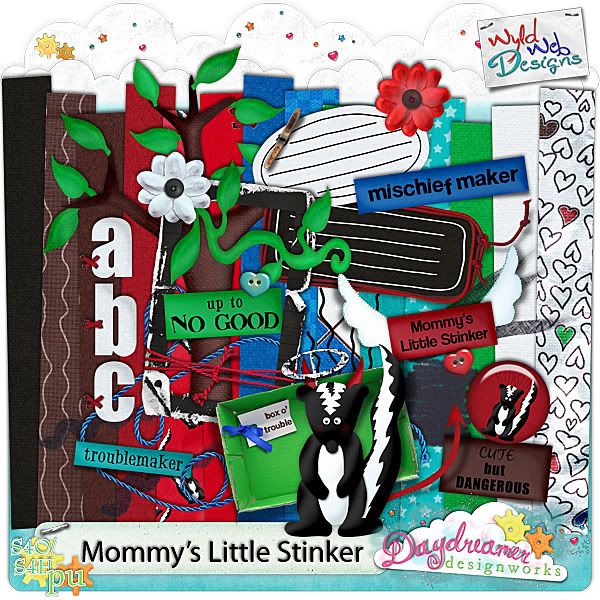 http://digiscrapgiveaways.blogspot.com/2009/12/giveaway-from-wyld-web-designs.html
Hey, rememeber me? Maybe not, ITS BEEN A WHILE! Sorry for my absence everyone, life has been sooooo crazy this month. I went on vacation for almost 2 weeks and have also been working like mad to get ready for the new store! So here it is!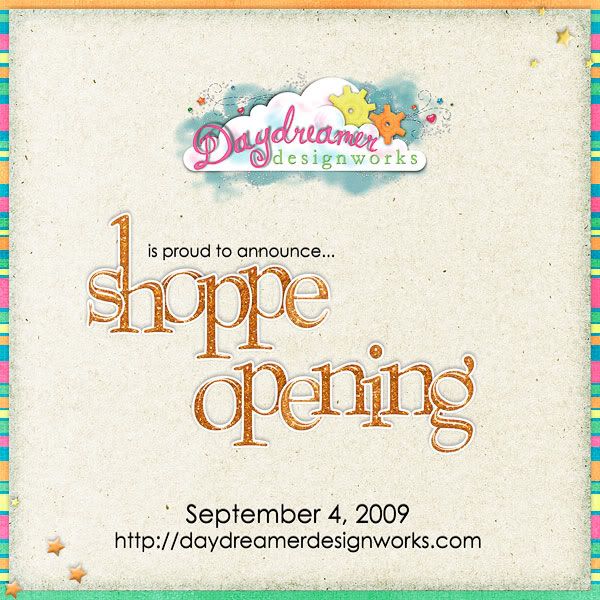 It's here it's here! Come and visit my new store opening tomorrow! I have a new product in there too, I'll let you all know more tomorrow! It's such a pretty site, make sure you stop by and say hello in the forums!
Christie and Rachel have a blog train of quickpages made by their CT! If you follow the whole train, this is the fabulous album of quickpages you will end up with:

You should have arrived here from Christie's blog.
Your next stop will be Valerie's blog.
Before I give you my freebie though, make sure you check out a few things.
Christie is having a sale all weekend to celebrate her daughter's 2nd birthday:
She is also having a couple of 'buy this get that" promotions for GREAT savings, this weekend only!
I've made several new pages with both Christie and Rachel's kits recently, here is my latest from Rachel's kit, "A Breath of Fresh Air":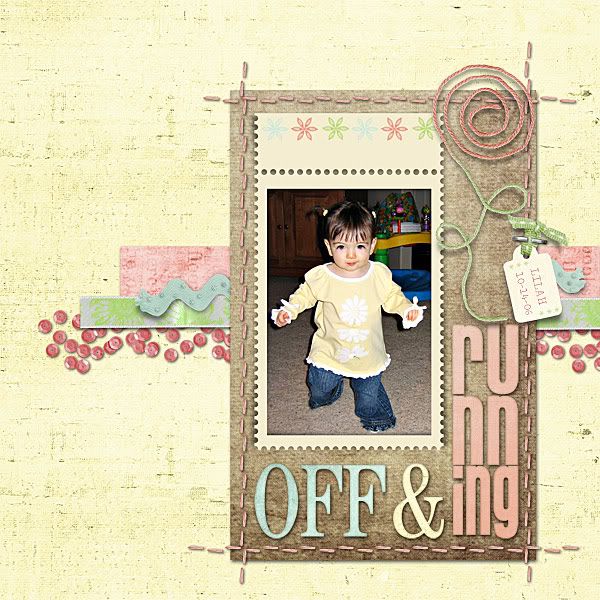 Credits: Kit:  A Breath of Fresh Air by Steel City Scraps
Wordart: Walking Wordart Pack by Elegant Wordart by Bethany
This layout also features a new wordart pack from Bethany out this week, it is on sale for 20% off this week only!
Well here is my portion of the blog train: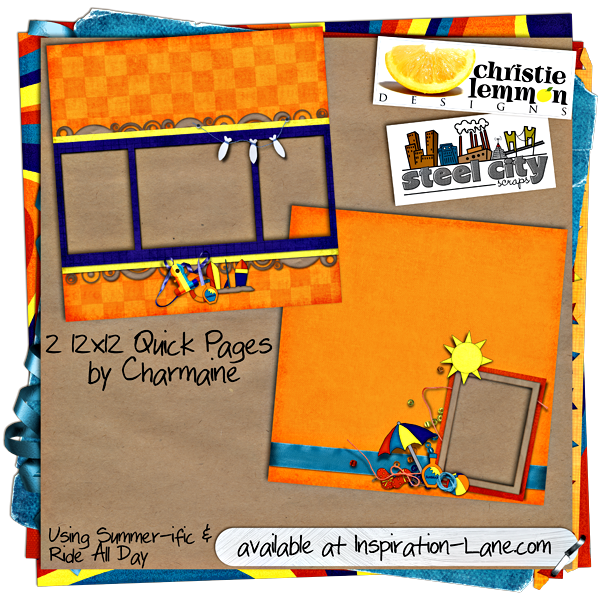 Click the image or HERE to download, and make sure you go check out their stores, they have  some awesome stuff!
Oh, and if you get lost here is the whole train! Be patient if some links aren't up right away, we are all over the world!
Christie http://www.christielemmondesigns.com
Charmaine http://wyldwebdesigns.com/wordpress/
Valerie http://geniabeanascraps.blogspot.com/
Bee http://justplainbee.blogspot.com
Janie http://scrapastrophe.blogspot.com/
Lori http://ellay365daysinthelife.blogspot.com/
Gail http://gailsmomentsintime.blogspot.com
Michelle http://inasunshinestateofmind.blogspot.com
Deb http://digideborahsdesigns.blogspot.com/
Dina http://dinascraps.blogspot.com
Janet http://nanapixels.blogspot.com
Mary http://texaschicstyle.blogspot.com
Alicia http://rosepup77.blogspot.com/
Amanda http://kirstenirenefaye.blogspot.com
Jaime http://cjoy2day.blogspot.com
Heather http://babyblueeyesx2.blogspot.com
Siti: http://haniz-eyecandy.blogspot.com
Rachel http://steelcityscraps.com
Well its the 4th of July and I'm off relaxing with my family at the local festival! Though I am Canadian, I have found that I am really starting to enjoy the enthusiasm and celebratory mood of the American Independence Day holiday! I hope you all enjoyed the Gingerscraps Independence Day blog train the other day, we had a lot of fun putting together the kit for you!
Because its a holiday, I want to give something away to celebrate! Anyone who creates a layout with our Gingerscraps Independence Day blog train kit, uploads it to the Gingerscraps gallery and then links me back up here in a comment will be entered to win a gift certificate to my store! So get scrappin' ladies, I want to see your celebrations! You have until 9pm PST Sunday, July 5th to link me to your layouts!
Gingerscraps is hosting a very fun and exciting new annual event: Scrapping Survivor!
Not only is it going to be a LOT of fun, there are going to be some awesome prizes…including some from ME! So if you want to have fun, get some scrapping done, and maybe win some cool stuff, go and sign up in THIS THREAD at Gingerscraps! See you there!
Welcome to the next stop on the Gingerscraps Blog Train!
You have arrived on my blog from Jen's Blog. If you get lost along the way, go to Ginger's blog. She has the whole map!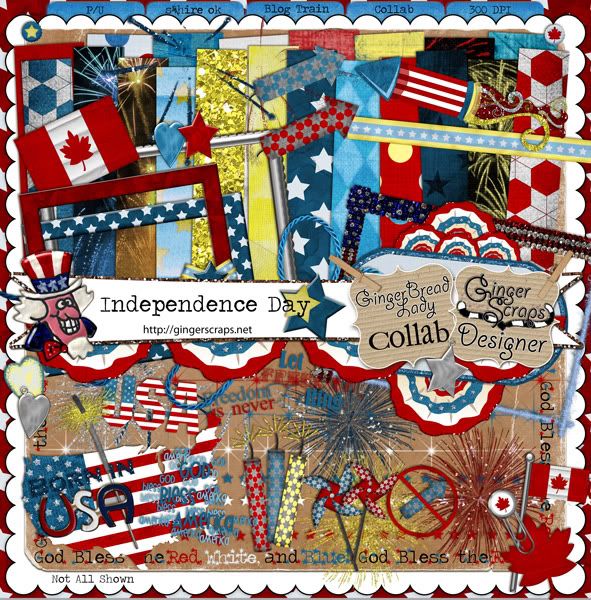 Here is my part of the train! You'll notice that it is the "Canadian" portion of our blog train, I had to represent my country

Click the image or HERE to download.
While you are downloading, why not check out the Gingerscrap's forum?
We are hosting a Speed Scrap a Day in July! Did you know that a speed scrap a day will keep the bad mojo away? Check the Gingerscraps Blog for the Speed Scrap Calendar.
The next stop on the trip is Misty's blog.
Happy Independence Day, and Happy Canada Day!